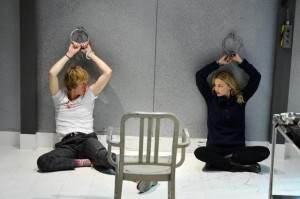 Emily delved deeper into her father's death in the penultimate episode of Revenge this week. Determined to find the white haired man that killed her father, Emily got lucky when she was able to use Conrad to track him down. But a surprise meeting with Daniel and Ashley about the wedding had her sending Nolan to find out where the man lived. When Nolan interfered with Emily's plan to murder this man as retribution, she was initially furious, but soon understood his motives to protect her. He did get lucky, however, when he was able to set up surveillance equipment in the man's house.
Unfortunately, this man is far more clever than Nolan had given him credit for. At the end of this week's episode, he kidnapped Nolan. Emily will soon discover this when she heads to Nolan's Hamptons house, only to find him missing, with a mysterious note telling her to call his cell. The man on the other end of the phone is her target and she's determined to take him down.
But first she needs to save Nolan's life. To do that, she proposes that she and the white haired man meet face to face. They do, and Emily is also captured. But I wouldn't count this woman out, even when she's chained to the wall.
Watch three sneak peeks for the season finale of Revenge below, airing on Wednesday, May 23 at 10:00 p.m. ET/PT on ABC. The show has already been renewed for a second season and will move to Sunday nights in the fall. Click here for more information on ABC's 2012-2013 primetime schedule.
For all of our coverage of the show, including trailers, sneak peeks, spoilers and more, browse and bookmark our Revenge page.