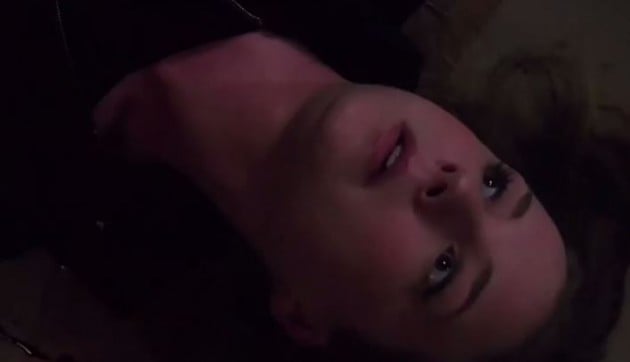 Many Revenge fans (myself included) have stuck with the series for all four seasons, enjoying the over-the-top twists and turns and Madeline Stowe chewing scenery, but also hoping that Revenge would end with Emily/Amanda and Jack together again, as they were always meant to be. And even though the show's penultimate episode certainly gave supporters of the couple some hope (she asked him to stay!), the promo for next week's series finale doesn't bode as well for either member of the potential couple, as both Emily and Jack appear to be in life-threatening situations.
Now that it has been revealed that (spoiler alert) Victoria is still alive (despite Madeline Stowe promising us that she was dead…), she and Emily will face off one last time in the Revenge finale. And even though our favorite blonde Revenger appears to have the upper hand, pointing a pistol straight at Victoria near the beginning of the promo, her fate looks a lot less hopeful later on the in the video, as she (as photographed above) seems to be lying in a pool of her own blood.
And what about Jack? Well, if you pause the video around the 12-second mark, you can see Jack lying in a hospital bed, with a tearful Emily kissing his cheek. Did Victoria do something to Jack? Is that truly her final act of revenge against Emily? (It would explain the tears in Em's eyes when she's pointing the gun at Victoria.)
We'll have to wait and see what actually happens next Sunday, but until then, watch the promo and comment below with your best theories. How do you think Revenge will end, and who will survive whatever craziness the show's writers have in store for the last episode?
The Revenge series finale, titled "Two Graves," will air next Sunday, May 10, at 10 p.m. on ABC.
[Photo via YouTube]