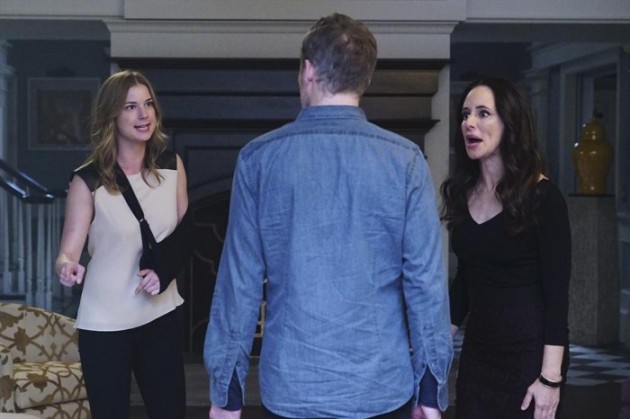 Emily Thorne is getting a roommate, and something tells me that two of them aren't going to get along. In this clip from Sunday's Revenge midseason premiere, David forces Emily to let Victoria stay with her while he takes care of the body of Malcolm Black's daughter, who shot and killed Daniel in the winter finale before Jack was able to take her out.
In the video, which you can watch for yourself below, David brings Victoria to Emily's house and is met with angry protests from both women when he tries to convince them that this is a good idea.
"Are you out of your mind?" Emily asks him, before he David yells at them both to stop, explaining how Emily must watch out for Victoria and that this is their only chance to if they want to stay alive.
Throughout the scene, David plays the role of the disciplining father, something we haven't yet seen from him so far on Revenge. He scolds Emily like she's a child and even responds to her constant questioning of his plan by saying, "Because I said so," telling her that she didn't listen to him and stay out of his business with Malcolm Black (who will be played by Sons of Anarchy star Tommy Flanagan).
Emotions will certainly be high between Emily and Victoria, even more so than usual as they both deal with Daniel's death (although we haven't seen the last of Josh Bowman on the show, as Daniel will not only get a funeral in this episode but will also, according to the actor, appear in flashbacks). Having the two of them stuck together under one roof should certainly lead to some pretty explosive exchanges.
"Play nice," David tells Emily and Victoria at the end of the scene before he leaves. Yeah, we all know that's not going to happen.
Revenge returns this Sunday, Jan. 4, at 10 p.m. on ABC. Watch the scene from the midseason premiere below.
Photo via ABC