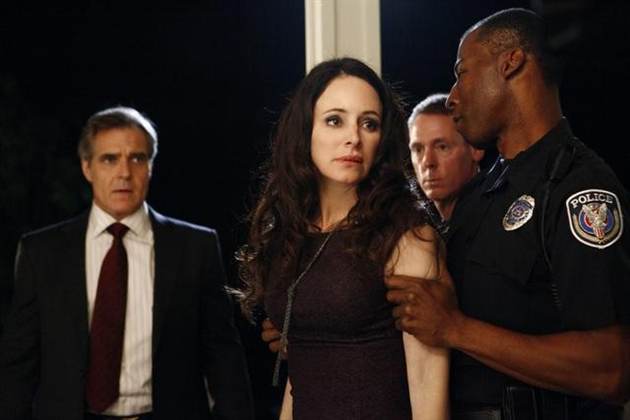 This week's episode of Revenge, which brought us back to the Fire and Ice engagement party in the pilot, was a great way to cap off the story arc from the first 15 episodes. Instead of Daniel getting murdered as we were originally led to believe, Tyler reappeared just in time to make Emily's life very difficult and ended up dying.
But now we've got a good old fashioned murder mystery on our hands. Who actually shot Tyler on the beach? There are a few suspects, including Amanda, who Jack is convinced is guilty. He told her to flee the scene while he tried to hide Tyler's body and she ended up getting picked up Takeda when her car broke down. Who knows when we'll see her again. Of course, another suspect is Daniel himself, which is where this storyline is heading.
Revenge is currently on hiatus until February 29, but when the show returns, we're dealing with the fallout from the party. The thing is, Daniel can't remember exactly what happened before Tyler was found dead. But he arrived at the scene covered in blood, which immediately made Victoria go into "protective mode". But there may not be much Victoria can actually do to protect Daniel. Despite the fact that the Grayson family closes ranks around Daniel, it looks like the police are convinced that he's killed Tyler and arrest him. Courtney B. Vance will be brought in as a defense attorney to try and help Daniel out of his mess.
Updated: Watch three sneak peeks for the episode.
You can also watch a promo here and for more details about the last episode, go here.