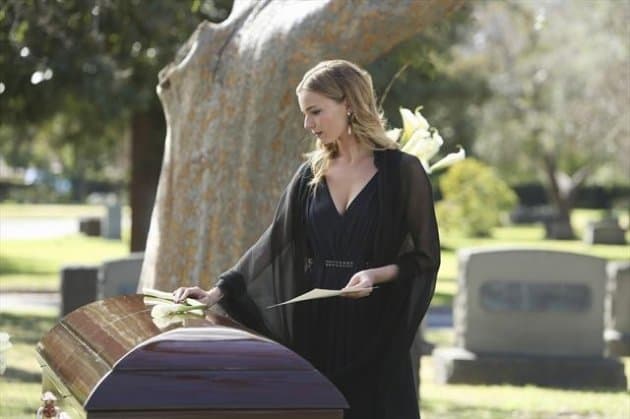 Amanda's recent death on Revenge was sad, especially given how far her charcter had come, but it might be just what this show needs to become a delicious soapy drama once again.  The first half of the season has been bogged down by boring not-dead mothers and the even more boring Initiative plot, but Emily is now prepared to recommitt herself to her original plan of revenge.
When the show returns with new episodes on March 10, Amanda's funeral will be held in the Hamptons.  As the various cast members gather to mourn her (or at least pretend to mourn her in the case of some characters), Emily is insistent that Amanda is dead because of the Graysons.  And that's another death she lies at their feet, prompting her to refocus on her plan to make them pay.  How will she go about doing that?  It seems like she's not above using her own sister to make Victoria pay.
Click the photos below to browse through pictures for the March 10 episode of Revenge on ABC.  You can also watch a preview for the new episode below.
http://youtu.be/cBT4kVSbkWk