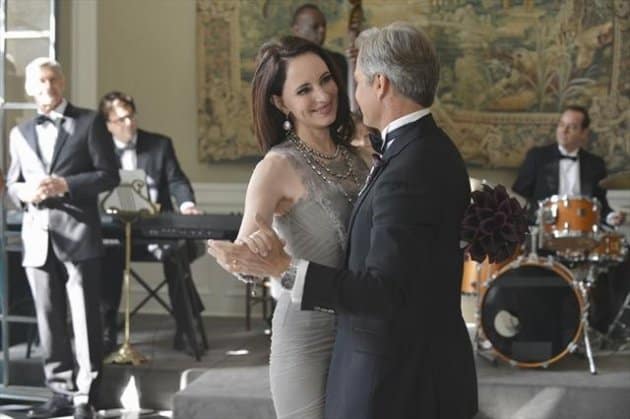 Conrad got a little bit of his own revenge in last week's episode.  During a press conference Victoria chose to reveal to the world that Charlotte is really David Clarke's father and she forced Conrad to stand by the family.  As a result of Victoria's declaration, Conrad aligned himself with the Initiative and dropped his own bomb on Victoria, telling her the two of them were going to be re-married.
Since Conrad delivered the news to a reporter, Victoria is forced to go through with the wedding in an upcoming episode of Revenge.  The Grayson couple puts on a happy facade for the guests at their wedding party (complete with Victoria in an elaborate Vera Wang gown), but we're guessing neither is particularly happy about playing the happy family once again.  A lot of familiar faces are in attendance, including their children, Nolan, Emily and even Aiden.  But the party seems to be crashed when Conrad gets handcuffed.  Is this Victoria's doing?
Mason Treadwell will also reappear in this episode, determined to learn what Amanda and Emily are hiding.  His reappearance forces the two women to scramble to hide all of their secrets.