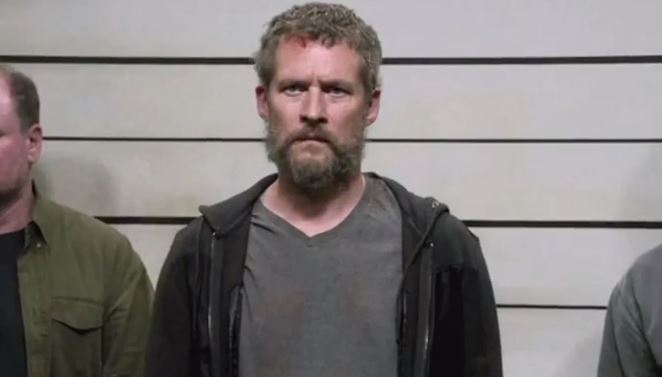 While it probably wasn't the family reunion either of them was hoping for (or expecting), Emily Thorne and her recently resurrected father David Clarke will finally see each other again in this Sunday's all-new episode of Revenge. The much anticipated father and daughter reunion has been one of the things that most Revenge fans have been dying to see in Season 4 of the show, and while the pair's potential meeting in last week's episode, with David holding a knife to Emily's face (and most likely recognizing that she was his daughter, Amanda) before Nolan stormed in and stopped him, would have most definitely been a little awkward, the first time they see each other this Sunday won't be much better.
In the clip below, we get to see Emily's expression upon realizing that her father is both alive and her attacker, as David, along with other potential suspects, stands in a lineup so that Emily can identify which one of them was the one who broke into her home. And when she does recognize that it's her father, standing there in front of her, alive, it's not simply shock or awe that comes across Emily's face but an almost child-like wonder. In this moment, getting to see the dad that she thought was dead for so many years, that she's dedicated her whole life to avenging, it's as if she's returned to being Amanda Clarke, that little girl playing on the beach again, if only for a second.
Watch the clip below for yourself (plus an additional scene between Nolan and Emily) and let us know how you think this Revenge reunion will go down. Something tells me that, like most things on Revenge, whatever happens between Emily and David will certainly surprise us.
[youtube http://www.youtube.com/watch?v=fdmpq8gd1fA]
[youtube http://www.youtube.com/watch?v=aW1t67_dle8]
Photo via YouTube