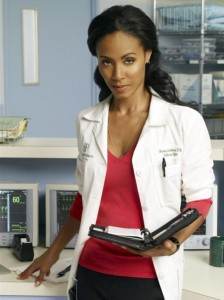 Jada Pinkett Smith has come to television. Smith plays Christina Hawthorne in the eponymous TNT medical drama that focuses on a group of nurses and doctors at Richmond Trinity Hospital.
The pilot opens on the one year anniversary of the death of Christina's husband. Still desperate to stay connected to her husband, Christina talks to his ashes each night. In the early morning, she rushes to the hospital to save an old friend of her husband, who's suffering from cancer and tries to kill himself. Her friend survives his suicide attempt and thus begins another crazy day for the hospital's Chief Nursing Officer.
Smith's acting is terrific in the pilot. I admit, I haven't watched a lot of her previous work, but she switches from funny to caring to headstrong in a heartbeat. The interaction with her character's rebellious teenage daughter, Camille (played by Hannah Hodson), is particularly poignant The two are at odds, as Camille seems to blame her mother for her father's death, but they still love each other and connect as a family. Her interactions with her mother-in-law, who also happens to be a member of the hospital board, are snarky. It's clear that the two women have little in common besides Christina's dead husband and Camille.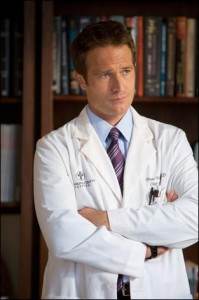 Michael Vartan (previously of Alias fame) plays Dr. Tom Wakefield, a charming Chief of Staff doctor at Richmond Trinity. He and Christina get along, but occasionally butt heads as cracks appear in the relationships between nurses and doctors.
Those cracks are a running theme of this show: some of the doctors are portrayed as smug know-it-alls who look down on nurses. This is clear in the relationship between one Dr. Marshall and male nurse Ray Stein (David Julian Hirsh). Dr. Marshall seems more concerned about golfing and putting down nurses than tending to patients. When she prescribes an overdose of insulin to a patient, she defends herself and blames Ray, who actually caught the mistake and followed hospital protocol in the hopes of getting the doctor to realize her mistake.
Several other nurses round out the cast of supporting characters, including Bobbie Jackson (Suleka Mathew), a close friend of Christina's who has a prosthetic leg. A handsome EMT, however, is willing to look beyond that and date her, which helps Bobbie with her insecurities. Candy Sullivan (Christina Moore), is your typical blonde bombshell, who likes to give wounded soldiers some extra TLC. Ray has a crush on her and while Candy enjoys flirting with him, it's unclear whether their relationship will develop at this point.
Several story lines appear throughout the episode, much in the same manner that other hospital dramas, such as E.R., would structure their episodes. Christina also deals with a deeply troubled homeless lady, who she is very compassionate towards, and the woman's sick newborn. The showdown between Dr. Marshall and Ray comes as a result of the near death of a soldier and the doctors and nurses who are close to Christina try to help her get through the anniversary of her husband's death.
Overall, the characters on this show are likeable and funny. It's not a heavy and serious medical drama, but it has a nice mix of humor and touching moments. It will be interesting to see these characters develop. I like the tension between doctors and nurses, particularly since I think nurses get the short end of the stick for doing so much for patients in real life.
HawthoRNe premieres June 16, 2009 at 9:00 EST on TNT.