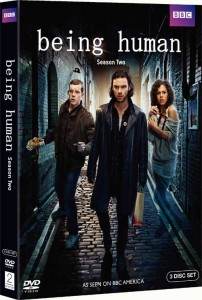 On September 21, BBC Home Entertainment gave us Season 2 of Toby Whithouse's Being Human, just a short while after releasing Season 1. Season 2 comes to DVD in a three-disc version, and I have the dish for you below.
The Show
As Whithouse remarked at last year's San Diego Comic-Con, the basic premise of Being Human sounds like a bad joke: a vampire, a werewolf and a ghost are living together. However (and thankfully), this is not a sitcom. It's a spooky, creepy drama about the very abnormal characters trying desperately to live normal lives, which we all know is not going to happen.
Vampire Mitchell (Aidan Turner) finds romance with a doctor, only to see it screwed up by mayhem in the vampire community. Likewise, George (Russell Tovey, whom Doctor Who fans will know as Midshipman Frame) has a new girlfriend but his werewolf existence gets in the way of their happiness. Ghost Annie (Lenora Crichlow) finds that being a ghost is still a pain in the behind. The show plays well on our fear of the unknown, particularly death – the afterlife is seen as a terrifying thing to be considered with fear and dread. In the Season 2 finale, we get a good look at the mechanics of death and the afterlife, and it's definitely not something I ever want to see.
Being Human is a show that can be pretty dark and bleary at times, but fans of the classic horror genre will appreciate it's scariness, while the personal struggles will no doubt appeal to a younger audience. As Entertainment Weekly's Ken Tucker wrote, it's "like Twilight, with better writing." The only real downer at the end of Season 2 is that, while the BBC has commissioned a third season, the US is (yet again) trying to swipe successful British properties to remake and butcher. SyFy has greenlit a thirteen-episode American version, and one can only hope it's not like the US versions of Coupling or Ultraviolet or Life on Mars or Top Gear…
The DVDs
I didn't receive these discs in their retail packaging, so I can't comment on any packaging issues. I can say that there's a forced trailer in front of the discs which I was able to skip by hitting the "next chapter" button on my remote.
The menus here are appropriately dark and creepy, taking you through parts of the house. They do have "play all" and episode selection options.
As far as video and sound quality, you get a widescreen presentation with subtitles. I had no complaints when I played episodes back on my Blu-Ray player, though the show's dark scenes did come up a little hard to make out on my laptop at times – not enough to be a major issue, but with a show as dark as Being Human can be, it's a given that at some point you're not going to be able to make out something. In fact, I think that kind of adds to the suspense.
The Special Features
With this release, you get nothing but featurettes…but you get a lot of featurettes. There are seven of them, all a few minutes long, scattered across the last two discs, to be exact:
"Behind The Makeup" is a look at just how much work goes into transforming the actors into various otherworldly beings. If any of you are fellow theatre geeks, you'll no doubt appreciate this one. I worked in theatre for a little while and one of the things that people always stressed about was the makeup.
"Blood Bursting": An examination of one of the show's (as usual, fairly graphic) transformation scenes, which quirkily took place in an old water harvesting tank. Now that's making good use of what you have to work with!
"The Caves": Visiting the Redcliff Caves in Bristol and showing us how they came to play a part in the series. If you've ever been to the UK or you're a location buff, you'll enjoy this featurette.
"Making The New Werewolf": Focusing on how Russell Tovey becomes one big hairy, scary wrecking machine. Sort of similar to the makeup featurette, but with a specific focus on his character. I really feel for this guy having to deal with all that!
"The Swinging Sixties": Want to know how the series recreated the 1960's in its flashback sequences? This featurette will tell you.
"Train Carnage": Exactly what it says on the can. A breakdown of the scene in which an entire train car full of people gets slaughtered. I wouldn't watch this one while eating if the sight of (fake) blood turns your stomach easily.
"Unleashing The Beast": An exploration of George's story arc over the season, including his attempt at getting a job and developing his 'real life,' complete with some insightful comments from Russell Tovey.
There are also two Easter eggs hidden on the discs: "The CenSSA Story" and "Tour of the Facility." I wasn't able to locate them; however, I didn't watch every disc, so if I find out where they are at a later date, I'll update this review with that information.
The Bottom Line
Personally, Being Human wasn't my kind of series (I think I've hit overload on the paranormal with the current state of Twilight/Vampire Diaries/things ripping off or lampooning either of the above), but it is a well put-together one that deserves the fanbase it's built both in the US and UK. Fans will enjoy the featurettes, which while not huge, will shed light on parts of the production they probably haven't even thought about. I wish they'd included a commentary track or two, because from my Comic-Con experience, the three principal cast members are a delight to listen to when they're in the same room together.
However, this is still a solid release, and fans will no doubt be thrilled that it's not going to cost an arm and a leg to get it, unlike Doctor Who. As of this writing, the Blu-Ray version is actually cheaper than the DVD version at Amazon ($42.49 to $46.49).