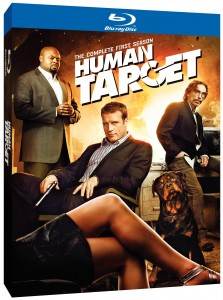 That sound you heard was my exclamation of joy as the review copy of Human Target: The Complete First Season landed on my desk yesterday. I would've had this review done by then, but I was too busy watching the entire season from start to finish. Of course, when you have a great show, you expect an equally great home release; read on to find out if Human Target got what it deserved.
The Show
Did I mention that I love Human Target? I'm not just a fan, but I'm also the official president of the Human Target Fan Club. Regular readers will be aware that I don't throw my support behind a show lightly, but I not only liked Human Target, I fell in love. I haven't been this excited about a TV show since 24 premiered almost a decade ago.
In retrospect, I probably should have seen that coming: the series pairs a great comic book character that I've loved since I was a child (assassin turned personal bodyguard Christopher Chance) with an actor I've been a fan of for most of his career (Boston Legal's criminally underrated Mark Valley). Add into the mix Pushing Daisies' Chi McBride as Chance's business manager Winston, and Watchmen's Jackie Earle Haley as tech expert/fixer Guerrero, and you have a perfect cast. Thankfully, they received able support behind the scenes, in showrunner Jon Steinberg (Jericho), composer Bear McCreary (Battlestar Galactica), and an assembled team of writers, directors and crew that led to the show being nominated for three Emmy awards – for Outstanding Stunt Coordination, Outstanding Original Main Title Theme Music, and Outstanding Main Title Design.
Critical acclaim aside, Human Target takes viewers on a non-stop thrill ride that also offers the best character depth along with it. Usually, you have to trade one off for the other, but not with this series. In every episode, viewers are treated to outstanding action sequences, sharp banter between the series' leads, interesting narrative structure, and a season-long gradual and unforced insight into Chance's psyche until, in the season finale "Christopher Chance," we finally get to see what made him who he is. Along the way, there are plenty of engaging standalone plots, including the episode "Baptiste" (written by series producers Matthew Federman and Stephen Scaia), which was one of the best episodes of this past TV season, period. You cannot go wrong with taking a chance (ha) on Human Target.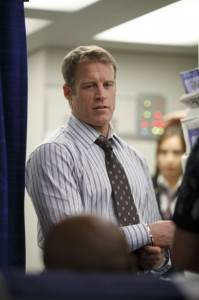 The Blu-Ray Discs
Human Target's box art, inside and out, is composed of the promo photos fans of the show will no doubt be familiar with. The cover has a cool lenticular effect similar to the second-season release of Fringe. Inside the plastic snapcase, you'll find two discs and Warner's standard accompanying booklet which contains episode synopses, airdates, credits and a list of special features. A note: rather than put the two discs in common flipbook style, Warner has elected to put one on each side of the snapcase – so your Disc 1 is actually under the booklet.
I thought the show looked good when I watched it on FOX HD, but the Blu-Ray transfer is even better. You get 108op high-def widescreen (16:9/1:78:1) with a Dolby Digital 5.1 audio track, and it all looks great. Human Target had some great views, such as the monastery in "Sanctuary," and the transfer does well by them. Nothing better than when a great show looks just as great. Warner advertises that the audio mix has been "enhanced from broadcast," and that's also definitely true. It's well worth the $8 between DVD and Blu-Ray (on Amazon, anyway) if you have that option.
There's subtitle support for English SDH, French and Spanish.
The only nitpick is that FOX probably wishes they could remove the "Fridays 8/7" sticker they put on these, considering they made public yesterday that the show will be moving back to its old Wednesdays at 8 PM timeslot come November. However, since these have been out since September 21, you can't really blame them for that.
The Special Features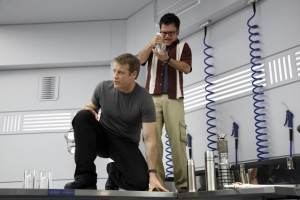 There's nothing more disheartening than having a great show and getting nothing back in terms of special features. Thankfully, Human Target doesn't have that problem. It isn't what I'd call loaded, but I'm satisfied with what fans did get.
There are two featurettes here. The first is "Human Target: Confidential Informant," which is your standard making-of explaining how the series got from the comic book to the television screen. Since a lot of people I've talked to have no idea that the show is based on the Wein/Infantino comic, I'm sure this will be an eye-opener for a good chunk of the show's audience. It certainly goes beyond what you'd expect for a standard making-of.
Wisely, the second is "Human Target: Full Contact Television," which sheds a light on those Emmy-nominated stunt sequences. They look amazing on TV, and I gained even more respect for all involved when I saw how much work it took to get them to be that great. Fans might also be surprised to know that's really Mark Valley in there, getting involved in his own stunt work. While he obviously doesn't do everything, he does a lot more than your average actor would, which is just another sign that he deserves to be leading a major action-adventure series.
There are deleted scenes for a few episodes here, but the crown jewel of these features is an audio commentary track on the pilot with three of my favorite people on the planet – Valley, Steinberg, and Chi McBride (as well as producer Peter Johnson). I could listen to these guys talk about this show forever, and the track doesn't disappoint. The banter we see on the show is very real and carries over off-screen in a track that's informative and fun. The natural question is "Where's Jackie Earle Haley?" but considering he was shooting two movies during Target (Nightmare on Elm Street and Shutter Island), his absence is regretted but understandable. My only other dismay is that there aren't more great commentary tracks on other episodes! (Okay, and a gag reel would've been pretty hilarious, too.)
The Bottom Line
I can't recommend this release enough. Human Target is an amazing show that deserves a lot more attention than it's getting, and the Blu-Ray release is almost perfect. If it had more commentaries and/or it'd managed to finagle Jackie Earle Haley for one, I'd be in Blu-Ray heaven.
Amazon currently has the Blu-Ray for $41.49 as of the date of this review. If you haven't already picked it up, please do. You'll thank me later.