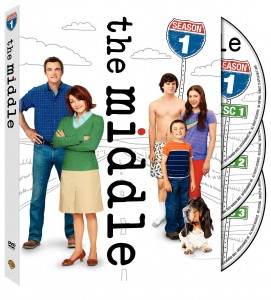 Full disclosure: my mother's side of the family is from Indiana. I've been there, and as a born-and-raised-in-the-big-city girl, I was pretty bored. Furthermore, there hasn't been a family-centric sitcom that's interested me since Sons & Daughters four years ago. With this in mind, I was pretty skeptical when I got a copy of The Middle: The Complete First Season. Wasn't this the show my friends and I joked about, wondering why it was at last year's San Diego Comic-Con? Yes, it was. Yet it's also a show that resounded with viewers and now comes to DVD in a three-disc set on August 31. Let's take a look inside!
The Show
The Middle stars former Everybody Loves Raymond spouse Patricia Heaton as Frankie Heck, a wife and mother of three children in small-town Orson, Indiana. She and her husband Mike (Scrubs' Neil Flynn) have to navigate raising their brood in a city best known for being the "home of the world's largest polyurethane cow." They've also named two of their kids Axl and Brick. If you haven't watched the series, that should clue you in that while this is a pretty standard sitcom setup, the show really goes out on a limb as far as the word "quirky."
I'd never watched The Middle before, as I tend to avoid standard sitcom fare (the only sitcoms I've watched in the last five years are The Game and Sons & Daughters, neither of which are exactly conventional), so this was my first look at the series. I'm grateful for the fact that it is conscious of the fact that it's more than a bit weird, instead of trying to pretend that weird is normal; in the opening voiceover, Frankie actually talks about how her youngest son has a ridiculous name. The show also has a few genuinely good lines. As Frankie wonders what happened in the intervening years between one driver's license photo and another, Mike muses, "You were all young and shiny and wondering what your life's gonna be like…and now you know." How true is that?
Ultimately, though, your enjoyment of the show is going to depend on how much you like Patricia Heaton. I was not a fan of Everybody Loves Raymond, but she is the star of the show and, despite it being an ensemble, everyone else is unquestionably in her orbit. She again plays the longsuffering wife role, except this time she's not quite so wound as she was on Raymond, so it's more of the same, just to a lesser degree. I was pleasantly surprised to see Eden Sher, who was great as Carrie Fenton on Sons & Daughters, but she's stuck in a more reclusive role here. The real scene-stealer for me is Neil Flynn, who has the ability to say what everyone else is thinking without coming off wrong (such as when he tells his daughter that he's glad he didn't have to go to any of her events, and gets away with it). Yet the supporting roles are just that, supporting. It all comes down to Heaton, who gives a pretty solid performance in terms of sitcom characters, and if you like her, you'll like her here. Then again, if you don't, you probably wouldn't be reading this in the first place, would you?
However, the show doesn't really break any genuinely new territory. We see a family that can't communicate with each other, children who are all screwed up in various cliches (the weird one, the slacker, the inept one), and some of the same problems you've seen before (kids with problems in school, parents wondering where their lives have gone). There's even the expected playing of Jimmy Eat World's "The Middle" in the pilot. It personally isn't to my taste, so I can't recommend it as a blind buy. However, if you like the talent involved, and you're looking for something that you can watch with your family, this may be a show that you want to look into. It's clean, relatable humor that isn't going to upset anyone around the house (a rarity in and of itself on TV these days, when funny all too often means crude), and the shows wrap themselves up neatly at the end — in other words, you couldn't ask for a better product if you like the traditional sitcom package.
Besides, I'll admit it. Indiana can be sometimes boring or weird (or both), and in that, this show hits the nail right on the head. It's not afraid to show that it's not the most conventional place to live.
The DVDs
There was one glaring problem with my copy of this DVD set: two of the three discs dislodged in shipping and were loose, rattling around when I opened the box. I didn't see any actual damage to the discs, but it might get annoying if you're not careful with making sure the discs are firmly attached in their respective places.
I was impressed, however, with the accompanying booklet that comes with the set. It contains the basic information you'd expect (episode titles and descriptions), but also has the neat feature of pointing out which episodes contain deleted scenes right next to the synopsis, so A) you're not wondering which episodes scenes come from and B) if you like a particular episode, you can look right next to it and see that there's extra content. The guidebook is clean and easy to consult, which is always a plus. There's nothing more annoying than a DVD set with a lousy guidebook, or none at all.
Thankfully, there are no annoying forced trailers or ads (one of my biggest pet peeves) on this set. Menus are simple and easy to navigate. Audio and video came through clean and clear on both my laptop and my DVD player.
As far as special features, Warner Bros. has provided a decent assortment. There are the usual deleted scenes, plus a gag reel — which is one of my favorite things on a DVD set. There are also two featurettes: Raising A Sitcom Family, in which the show's creators talk about the show's history and development, and Sue's Best Shots, where the cast and crew discuss their own school photo experiences using Sue's school photos as a starting point. They're pretty much the kind of basic things you'd expect on a set like this. I liked the former more simply because, as a writer, I'm interested in how shows come together, but fans of the show shouldn't be let down by the content. The only major disappointment is the lack of commentary tracks, which are the crown jewel of any set of special features. They're the first thing I look for on any set, and there aren't any here.
The Bottom Line
If you're looking into the show for the first time, I'd suggest a rental to make sure it's your cup of comedy tea before you buy. Your enjoyment of the show is going to depend on how much you like the talent and what makes you laugh. Fans of the show won't be disappointed with a solid release.
You can own it on DVD by clicking the box art above, which will take you direct to WB's online store, or the set will street nationwide on August 31. For further content, you can also check out the official site.