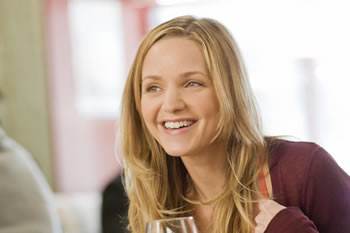 When My Boys premiered back in November of 2006 I wasn't totally impressed. The show, about a not-so-girly female sportswriter who likes to play poker and drink beer with the guys wasn't nearly as original as I'd hoped for it to be. Most of the characters were flat and the humor almost came off as awkward, and though it was still entertaining, I had better things to watch at the time, and My Boys just didn't make the cut. My how things can change in a little more than two years. Season 3 of My Boys premiere's tomorrow night (Tuesday, March 31 at 10:30/9:30 C), and the best thing I can say about the premiere is that I WILL be tuning in…and I've already seen the first 3 episodes!
My change of heart is due more to the declining quality of good, laughable sitcoms on TV these days than anything else. When My Boys premiered 2 years ago, I gave it just one episode, made my decision not to be a fan, and never looked back. That was hardly fair, but at the time I had My Name is Earl, Two and Half Men, Scrubs, and The Office (another awkward kind of comedy) to laugh at each week. The problem is that those once great shows have failed to stay relevant and funny, and have instead declined into the same stale humor for years. There are a few new sitcoms, such as Better Off Ted that might show some promise, but other 2008-2009 newbies such as In the Motherhood and Gary Unmarried simply aren't filling the void. This isn't to say that My Boys is only good because all the other sitcoms suck. That's hardly the case! My Boys has been consistently funny for two season of television, and season three looks to step up the humor even more so, making it stand out as one of the funniest sitcoms on television.
My Boys may lack slightly in originality, but it makes up for it, in full force, with good-natured, realistic, fun. The season three premiere picks up right where last season left off with the sudden marriage planned for Bobby and the Swedish nanny Elsa. Some of the funnier moments of the episode include a mustache growing contest the guys embark on ('stache jokes never get old, I don't care what Variety.com says!) while PJ's brother Andy struggles with the balance of his personal time and his new family lifestyle. The episode easily stands on its own as being as good as any sitcom on television right now and made me laugh out loud more than just about every other tired, old comedy that the main networks are bringing us. In fact, it was easy to forget that this show airs on TBS, and not one of the majors.
So if you're a fan of My Boys already, then rest assured, you'll love season 3 as much or more than you have the first two seasons, as PJ and her gang of man-friends dish up more of the same with some nice new touches. If you're new to the show, or have only watched intermittently in the past, then give My Boys another shot, and I have no doubts that you'll fall in love with its fresh humor.
My Boys premieres on TBS on Tuesday, March 31 at 10:30/9:30 C.