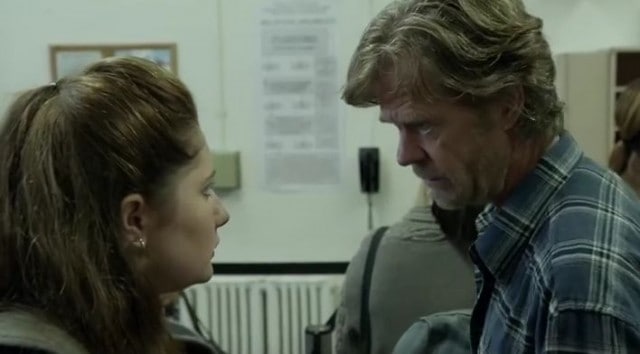 Shameless rounded off its two previous episodes with another solid one, showing that the sixth season is more promising than any previous season. "The F Word" gave the audience, and Fiona, some closure with a few things, and finally some difficult decisions are made.
I have a lot of respect for Fiona in this episode. She's already feeling the pains of morning sickness, and she pulls Debbie aside to tell her about her own pregnancy. This was revealed much quicker than I expected! Unfortunately, Debbie sees this as a great opportunity for the two of them to raise their babies together. She reminds Debbie that she plans to get an abortion, and that Debbie should as well.
Debbie doesn't take this well, and says, "God, you are disgusting. You are a horrible human being. You didn't even divorce your husband, you just ghosted him like you're going to ghost your baby." That's when Debbie said what everyone was thinking, and luckily it triggers something in Fiona.
Fiona reaches out to V and they go to Gus' concert at the bar his band always plays at. V and Fiona have a good heart-to-heart, and V takes this opportunity to share her own experience being pregnant. The girls are back!
In any case, Gus seems glad to see Fiona, and tells her he wrote her a song. Yes, "The F Word" has several meanings, one of them being Fiona herself. It's a catchy song about how she cheated on him several times, but not really fun for Fiona to hear. She and V leave shortly after the song. I'm glad we finally have some closure with Gus and Fiona. It was such a strange turn of events last season, and he was still lingering without any real conclusion between them.
Meanwhile at the high school, Carl is making plenty of money selling guns, but not from the people you'd expect. His principal pulls him aside and asks for a gun of his own, and sure enough the rest of the faculty do the same. He's still trying to woo a girl at school. Her name is Dominique and she really doesn't have time for Carl's charade. She tells him that he's a white boy playing dress up. Instead of being an honest version of himself, he decides to use his influence over the principal to have him remark at what an 'upstanding black young man' in front of Dominique. Carl makes a few more attempts to impress her, until she tells him directly that she has a problem with how he acts uneducated and dresses like a 'gang banger.' I can see that there may be a real thing forming between these two, but I hope it's without this new guise Carl has adopted.
Lip helped Ian get a job at the university as a janitor and at first, Ian is thrilled about it. The position sounds easy and he should be able to see Lip all of the time, right? Wrong. If it wasn't obvious last season it's definitely clear now: Lip has lost the West Side of Chicago, and he's thriving in this educational setting. (Yay, Lip!) However, Ian is less than thrilled about the development. The two brothers, who have always had each other's backs, have faded from each other.
When Ian asks if he can just crash at the university now, Lip clearly says no. He even says that he's "earned his space" and that hits Ian hard. The morning after a crazy party, Ian accuses Lip of having an easier life than him. Lip makes an excellent point when he reminds his brother that dropping out of high school is his own fault and no one else is to blame. Ian leaves angrily, but later witnesses a horrible car accident and rescues a woman from a burning car. Sure enough, the firefighter who finds Ian is pretty attractive, so I hope this give Ian a new direction.
Debbie seeks out Frank for advice about the baby in this week's episode, and boy, what a mistake. He decides to teach her about the trick of the trade in getting welfare for her future baby, and he even helps conduct an intervention for Fiona, oh the irony! In the end, this advice leads to a tearful conversation between her and Fiona and what an amazing scene!
Debbie comes home early from school crying, and tells Fiona that she will support her abortion if she supports her decision to be a mom. Debbie also admits to getting pregnant on purpose. She notes that Frank is the only person supporting her at the moment and that she needs Fiona's support to get through it. The scene is full of emotion, as Fiona is crying, too. Suddenly, Fiona wakes up from her hormone induced emotions and says, "You're right, Frank is the only person who thinks this is a good idea. You should be crying." Â Fi says "I will not support you, not physically, emotionally, not financially." You will not be living under my roof, you will be alone if you do this." Emmy Rossum delivers a flawless performance as Fiona realizes that the only way to have Debbie see things from her perspective is to take away all that Debbie gets from her older sister.
Shortly after Sean asks what is going on and she tells him everything. She includes that he has no say in the matter and compares it to his addiction. He takes it well, and I hope his composure about the topic remains the same throughout the season. Shameless has tackled a really big issue in society in two episodes, and it's been very thoughtful and well written. I'd hate to see any of the season take that away from Fiona and Debbie.
"The F Word" was a solid episode that was a little bit of a filler, but it was well organized and well written. Â I hope next week we finally see Fiona follow through on her decision, and maybe we'll even see Debbie move out.
Shameless Season 6 Episode 3 Review: "The F Word"
Summary
Shameless gives Fiona and the audience closure during this week's episode, "The F Word."