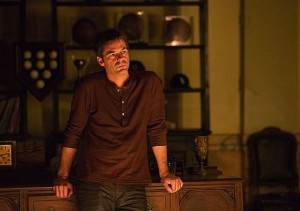 The set-up for the new NBC drama Revolution may sound simple, but by the end of the extended trailer (airing last night during the Olympics), it becomes clear that this brave new world is full of secrets and mysteries.
In present day, Ben Matheson arrives home one night to his family – wife Rachel, and young children Charlie and Danny. A few harried moments later, all of the electricity in the world stops functioning. What happens when all the lights go out? Governments fall, people learn to live off the land once again, and the world becomes a very different place. Fast forward to 15 years later, when a grown-up Charlie arrives back home to find her younger brother kidnapped and her father bleeding to death. Ben gives his daughter a mission before he dies: find his brother Miles in Chicago and figure out a way to get Danny back.
Charlie does meet up with Miles, who has some news for her: General Monroe (now in charge of a big chuck of the U.S.) clearly believed Ben knew why the lights went out. Did he? It certainly seems that way. But with Ben dead, will Charlie and Miles be able to figure out a way to get electricity flowing again? Even more importantly, from the final moments of the preview, why does electricity still seem to work for a select group of people? And what are they hiding from the rest of the world?`
Watch an extended preview below for Revolution, premiering on September 17 at 10:00 p.m. on NBC.