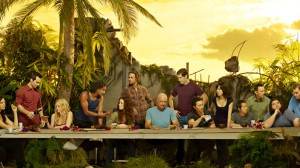 The LOST team is jumping the DVD gun and allowing visitors to the ABC website to watch season 6 episodes (after they've aired, of course) with commentary. Not like the "enhanced edition" versions that seem to be airing each week with pop-up video, but commentary from actors and crew from the show.
For example, you can re-watch the premiere episodes ("LA X Part 1" and "LA X Part 2") with commentary from Daniel Roebuck, who plays Leslie Arzt (long-time fans will recall that Arzt died back in season 1 but was seen again in the "never-crash" timeline). Roebuck will take you through the entire two hour premiere with behind the scenes commentary.
When you're done with the premiere, go re-watch "What Kate Does" with commentary from Rob Kyker, who is the Prop Master for the show. He'll definitely give you inside information on what's involved with all of the different props for LOST.
Check back for more information, because it looks like ABC plans to post episodes with commentary each week and we'll have more information for you when they do.
Also, check out our recent article on the names in the cave from the last episode, "The Substitute" and theories on what they could mean.