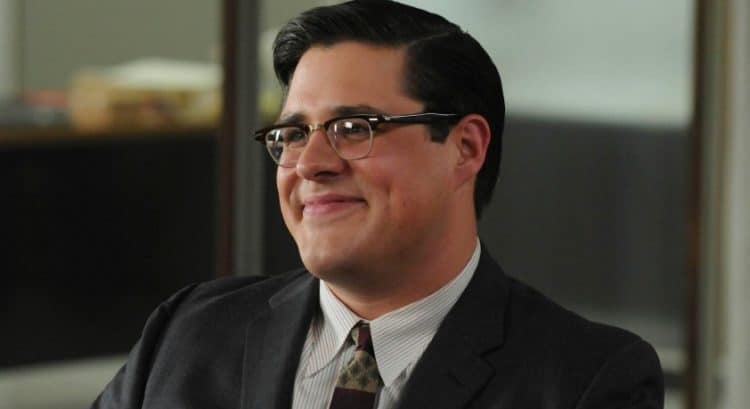 Rich Sommer is an American actor of some note. Primarily, people will recognize him because of his role as Harry Crane on Mad Men. However, he has played an important part in plenty of other productions as well, which happen to include a number of notable comedy-dramas. Here are 10 things that you may or may not have known about Rich Sommer:
1. Grew Up in Stillwater, MN
Sommer might have been born in Toledo, OH, but he was raised in Stillwater, MN. Nowadays, said city tends to be best-known for seeing a regular influx of visitors from the rest of the Twin Cities metropolitan area because of its historical buildings and pleasing surroundings. However, there was a time when it was very important to the region, as shown by how it was chosen to host the convention that started up the process of making Minnesota a state.
2. Got Interested in Acting at a Young Age
Like a lot of actors and actresses, Sommer got interested in acting at a young age. In his case, he remembered meeting the cast for a production of Jack and the Beanstalk in Akron, OH, which came as something of a revelation to him. As a result, Sommer was interested in acting as well as other performing arts throughout his schooling.
3. Sang in the Concordia Choir
For instance, Sommer sang in the Concordia Choir when he was a student at Concordia College. It is important to note that the Concordia Choir is not a standard local choir, seeing as how it tours the United States on an annual basis and the world on a quadrennial basis. As such, while the Concordia Choir might not be the most famous choir that can be found out there, it is nonetheless a respected name when it comes to its particular field.
4. Has Been Known to Return to Case Western Reserve University to Teach
Later on, Sommer completed a Master of Fine Arts at Case Western Reserve University. Curiously, Sommer has been known to return to the school to teach from time to time, though not on a full-time or even a part-time basis. For example, he spent some time teaching icebreakers to law students in 2006. Likewise, he spent some time teaching improv to theatre students in 2008.
5. He and His Wife Have Discussed Moving Back to Minnesota
Both Sommer and his wife Virginia Donohoe came from Minnesota. As such, the two have talked about moving back to Minnesota for a time. Unfortunately, there aren't a lot of movies and TV shows being made in the state of Minnesota, meaning that while both of them have showed interest in such a move, it wouldn't be very practical.
6. Still Very Much Associated with Harry Crane
Even now, Sommer is still associated with his role as Harry Crane on Mad Men by most of the people who recognize him, which is perhaps unsurprising considering the viewership numbers that the show managed to get. On one occasion, Sommer was actually asked about whether he was a bad person in real life, which he stated was a fair question because so many of his best-known roles have been bad people. In any case, this particular problem is by no means limited to Sommer because other actors who are best-known for playing bad characters have had similar experiences. One excellent example would be Jack Gleeson, who most people will recognize as Joffrey Baratheon from the earlier seasons of Game of Thrones.
7. Is a Fan of Tabletop RPGs
It is interesting to note that Sommer is a fan of tabletop RPGs, so much so that he has been known to host a relevant podcast called CARDBOARD. With that said, this isn't that uncommon for someone with a theatre background, seeing as how said individuals make up a sizable percentage of tabletop RPG enthusiasts. For that matter, this is wholly unsurprising because a good chunk of tabletop RPGs is about playing the characters that the players have created.
8. Currently on GLOW
Sommer remains very active when it come to acting. For instance, one of his current projects is GLOW, which refers to a women's professional wrestling promotion called Gorgeous Ladies of Wrestling that was active in the 1980s and 1980s. In it, Sommer plays a character named Mark Eagan, who is the husband of one of the wrestlers in G.L.O.W.
9. His GLOW Role Has Some Similarities with His Mad Men Role
Speaking of which, Sommer has mentioned that his GLOW role has some similarities with his Mad Men role. In short, he stated that while professional wrestling might not be wholly real, professional wrestlers are still cheered on by the fans anyways. As a result, the female wrestlers of G.L.O.W. received a empowering boost from their experiences in the ring, which bled over to their personal lives from their professional lives. Due to this, a lot of the male characters in their lives discover in a very sudden manner that these women are their own persons with their own thoughts about what should and shouldn't be, so much so that many of them such as Sommer's character are blindsided by it. Something that the character shares with Sommer's character from Mad Men.
10. Has Been Known to Voice Act
Sommer has been known to voice act. For example, he had a part in the anime movie called Code Geass: Lelouch of the Resurrection, which is a follow-up to a popular mecha series from the 2000s. Said movie received an earlier release in Japan, but has since been released for the U.S. market as well, which explains Sommer's participation in the dub. As for his role, well, there aren't a lot of good English sources on the matter at this point in time, but it seems that Sommer plays a relatively minor enemy who winds up getting killed in the movie.