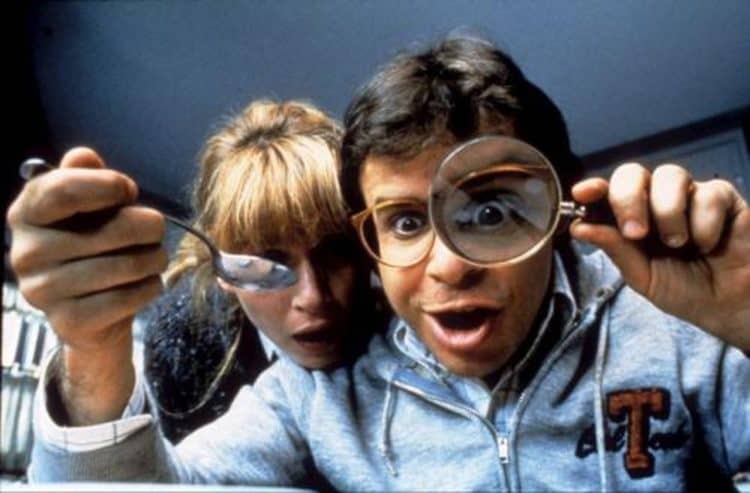 First off, let's remind all of those folks that have been pining for Rick Moranis to come back to just cool their jets and stop searching for Mel Brooks' phone number to pitch their ideas for a new Spaceballs movie, mmkay? There are likely plenty of people that would love to see him in the new Ghostbusters: Afterlife as well since the character of Louis Tulley would be a welcome addition even if it means that it might force a number of issues with the idea of having to add him in. But at this point the fact is that he's signed on for Shrunk is enough to excite a lot of folks that have been wanting to see him come back for a while. The popular comedian has been absent from the big screen for a long time now and much of it had to do with the very admirable idea of staying home to take care of his children after his wife passed away. After a while he admitted that he stopped missing show business as much, though obviously the Honey I Shrunk the Kids movies held a special place in his heart, as he's admitted, and were the only way to get him back into the swing of things, at least for this movie. Whether he's going to stick around is hard to say since at this point bringing him back could be a way to simply revive the old idea and nothing else.
It would be great to see him come all the way back and start reviving old ideas, so long as it's understood that a lot of people might actually be fully against something like a Spaceballs remake considering that in this day and age such a movie wouldn't even be capable of bringing the same kind of laughs that were so plentiful during its initial release. Plus, when you think about it, the humor in Spaceballs and even Honey I Shrunk the Kids was a product of the times, meaning even Shrunk might be far different than what we remember from the past. With Josh Gad taking on the role of Wayne's son Nick it's likely that some of the humor in the movie could be on par with the original, but the likelihood that we'll get the same caliber and level of humor as was introduced back in 1989 is still hard to believe. With so many people being triggered by so many different things in this day and age it's easy to think that the studio will be taking the safe route when it comes to a family movie and will likely tone down the humor in a way that makes it more family-friendly.
Getting back on point though, the upside is that Rick Moranis is coming back as it's been confirmed and people everywhere are rejoicing since his presence in show business has been noted for many years. When looking at his contributions it's easy to think how many people would have been able to move forward without feeling his absence since he's been out of the industry for a while now, easily long enough for other comedians to come in and fill the gap. But those of us that grew up with him as part of our entertainment obviously missed him greatly and are extremely happy to see him coming back. But as far as Spaceballs, Strange Brew, or any other movie where he was so highly effective it's not really a discussion that anyone has entered into at this point with any seriousness since Shrunk is at this time the one point of interest that is factual and able to be talked about in a very realistic sense. It might feel as though he didn't put enough of himself into any other project to feel the same way as he does about this story idea, but in truth the projects that actors are closest to aren't always those that people are the most invested in. It does sound as though Moranis would actually don the helmet for Spaceballs 2 if asked to do so, but despite that it wasn't the movie that held the most interest for him. Kelly Merka Nelson of San Antonio Current goes so far as to relay that he did have fun on set and enjoyed working with Mel Brooks, but at the same time this is one of many movies that would have to be careful about the jokes and content it added in, as the humor of the original likely wouldn't fly today.
The reality of the moment is that while Moranis would likely come back for a number of projects if things went just right, Shrunk has already gained his attention, and if there's anything in his future from that point on, we'll likely be talking about it in the months and years to come. It'd be nice to see him come all the way back though.