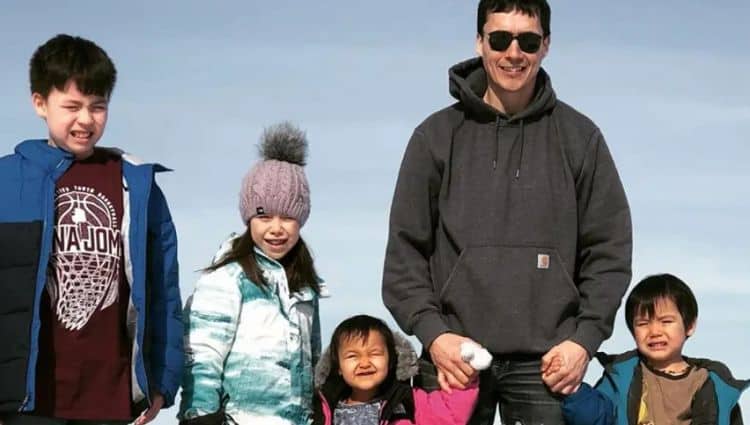 There aren't many people who would choose to live in a remote location where below freezing temperatures are the norm, but Ricko DeWilde isn't most people. Ricko is one of the stars of the National Geographic series, Life Below Zero, and he knows a thing or two about surviving in the middle of nowhere in Alaska. Not only does Ricko appreciate a simple lifestyle that allows him to feel closer to nature, but he's also passionate about sharing his experiences with others. The life he lives may not be for everybody, but there's something everybody can learn from Ricko. Keep reading for 10 things you didn't know about Ricko DeWilde.
1. He Has An Apparel Company
Ricko may be all about living a simple life, but that doesn't mean he isn't about his business. He is the founder of a clothing like called HYDZ Gear. He sells things like hoodies, hats, and coats. Not only do his items pay homage to his culture, but they're also designed to keep people dry and warm.
2. He Comes From A Big Family
Living in Alaska's harsh weather conditions isn't anything new for Ricko. He's been roughing it all his life and he he's proud of the skills he learned along the way. He was born and raised there and comes from a very large family. He grew up with his 13 siblings in a remote cabin about 100 miles from Huslia.
3. He Didn't Go To School Until 12th Grade
Ricko's upbringing was what many people would consider unconventional. In addition to growing up in a very remote place, he didn't didn't attend a traditional school until he was a senior in high school. Prior to that, he was homeschooled by his parents where he learned their cultural traditions.
4. He's Struggled With Abuse
Ricko moved to the city when he was 18-years-old. Because he had been so sheltered for many years, city life proved to be overwhelming for him. He eventually started using oxycodone and became addicted. His addiction led him down a bad path and he was arrested on drug related charges and spend two years in prison. Although the situation was unfortnuate, being in prison made him realize that he wanted to turn his life around. He quit drugs and has been clean and sober for over 15 years.
5. He Has Native American Roots
Ricko comes from a long line of native Alaskans called the Koyukon Athabascan people. He was raised in a traditional family and his culture is very important to him. Like many other native communities, Ricko was taught how to survive off of the land around him.
6. He's Active On Social Media
When most people hear about Ricko's way of life, they assume that he also lives off the grid and doesn't keep up with modern technology. That's not true at all though. In addition to having a website for his apparel company, Ricko is also active on both Instagram and Facebook.
7. He Was Discovered On YouTube
Even before being cast on Life Below Zero, Ricko was passionate about sharing his experiences. He started a YouTube channel in November 2011 and began posting videos showing what life is like in rural Alaska. His channel currently has more than 6.8 million views and it is what helped him get the opportunity to be a part of the show.
8. He's A Father
Ricko was born into a close knit family, and this is something he continues to instill in his children. He is the proud father of five children: Simone, Skarlett, Maya, Skyler, and Keneen. It's unclear whether or not Ricko is married to his children's mother, Rona Vent.
9. He Hopes To Educate Others
Ricko's way of life is all about taking care of the earth, and he hopes that is something he can teach other people to appreciate. He said, "Living with Nature is something all people of this earth once did to survive, but the indigenous people of this earth are the last ones still holding onto a balance to keep working in harmony with their environment…I wish for the viewers to not only enjoy what they watch, but also learn to respect and honor Mother Earth."
10. He's An Activist
Ricko's love for his people and his community extends beyond up holding traditions. He is also passionate about ending police brutality and other forms of discrimination. In 2016, he organized a vigil for a local Native man who had been shot and killed by the police. When interviewed by a local paper, he pointed out the disproportionate number of Natives shot by the police.