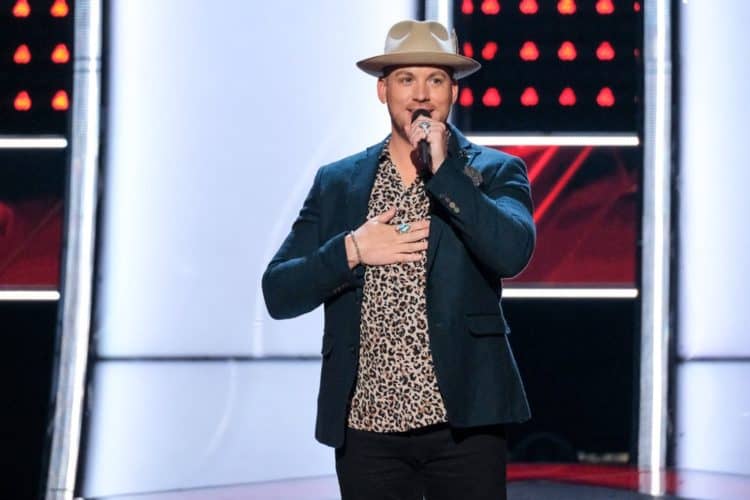 Ricky Braddy is a contestant on the television series "The Voice." He has made it through the various stages of the competition and battled it out with some of the best singers in the United States to become one of the top 13 singers in this season's show. Ricky has a big following of fans who are always interested in knowing more about their fans. Here are 10 things that you didn't know about Ricky Braddy that you might find interesting.
1. He was a contestant on "American Idol"
Prior to appearing on "The Voice," Ricky Braddy appeared as a contestant on the talent competition "American Idol." His appearance was during the 8th season of the show. He auditioned for the show when tryouts were held in Louisville. He made it to the top 36 but was eliminated in the competition. He was brought back as a Wildcard and allowed to resume competing, but once again, he was eliminated from the competition. He was 25 years old at the time.
2. Braddy is a Nashville native
Ricky was born in Nashville, Tennessee. This is where the 36-year-old singer spent his early years. He also attended college in Nashville at Belmont University. He majored in Commercial Vocal Performance, and he earned his degree in the discipline from the school. He is not only a talented singer but he is also an educated man to go along with it.
3. He starting singing at an early age
We learned that Ricky Braddy was only 4 years old when he first started singing. He was raised in the church and this is where he first found his voice. Music has always been a part of Ricky Braddy's life. He has a passion for singing and he has devoted the majority of his life singing and actively pursuing a career as a singer.
4. He spent time in the ministry
Ricky was raised in a conservative southern community. Much of his time as a young person was spent at church or in related activities. He joined with a Christian group when he was 16 years old. He spent the next three years traveling around the United States sharing his faith with others. Ricky was very strong in his faith and in his beliefs.
5. Ricky Braddy carried a heavy burden for years
While Ricky was working hard to spread his faith to others he carried a secret that he had not yet disclosed to anyone that he was close to. He was gay, but there wasn't anyone that he could tell about it because of how conservative everyone in his circle was. He had the fear that he would not be accepted among others who shared his faith. He continued to hide his sexuality, but he realized that he was living a double life.
6. He became interested in a career in music in college
Ricky had always been a singer, ever since he could remember, singing in church since he was a little boy. Until he went to college, he had only been exposed to gospel music. It was in school that he was first introduced to secular music. This is when he started to discover himself as a musician. Music became a big part of his life and he made the decision to pursue a career as a professional in the field.
7. He revealed his true self on "The Voice"
Ricky came to the realization that he had to be true to himself. He auditioned for "The Voice" and made it through the blind auditions to become a contestant on the show. It was there that he shared his innermost feelings and his long-kept secret. It was time to stop living a double life and acknowledge his true self before the entire world, and he did so on national television. This took a great deal of bravery on his part, but he found the courage to be open and honest regardless of what others would feel about him. He is to be commended for being true to himself and honest with others.
8. Ricky has an Instagram account
Fans and admirers of Ricky Braddy will be happy to know that he has an Instagram account. He has done a really good job of posting and keeping the page current with great photographs of him in both his professional and personal life. If you want to know what's happening in his life, this is a great resource. He's made a total of 311 posts so far and he has an impressive 4,846 followers as of November of 2019. His fan base is increasing all the time. He is currently following 247.
9. He is still strong in his faith
While we were visiting Ricky Braddy's Instagram page we noticed that he maintains a hashtag that says "Seeking first His Kingdomrickybraddy.com. This tells us that he is as strong as ever in his faith. Ricky hasn't shared much about how his church family has reacted to his disclosure that he is gay, but we're all hoping that he has found an element of acceptance from those that he is close to.
10. Ricky has a message for the world
Ricky Braddy is an inspiration for anyone who is worried about being accepted by their peers. That message is carried out in his actions and it tells us that it is not only okay to be yourself, but it is also necessary for true happiness. It took him years to arrive in the place where he could confidently share his true self with the world. This was a learning moment for viewers as we all watched his honesty. He was willing to take a chance and it worked out in his favor. There is a right time and the right place and for him, it was with the viewers of "The Voice."