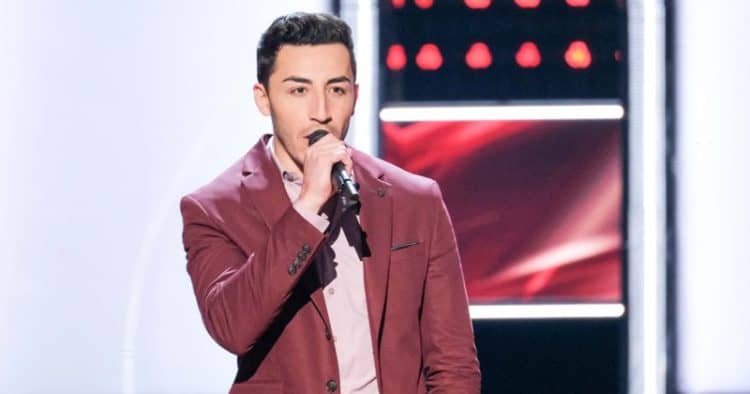 Since April of 2011, NBC's 'The Voice' has entered the living rooms of millions and enchanted them with the possibilities of stardom. America seems to have a preoccupation of sorts with watching virtual nobodies compete for the gift of becoming musical 'somebodies', and that, overnight. From Maelyn Jamon to Craig Wayne Boyd to Danielle Bradbery, the program has pumped out some of the most talented individuals in music today. Certainly, we cannot leave out Season 17 hopeful from Team Blake, Ricky Duran.
A native of Massachusetts, Duran has held his own successfully as a member of Team Blake (country singer Blake Shelton) since the beginning of the season. With a supportive family, incredible talent, and a deeply rooted love for music, the young man has shown that he has the skill, determination, and stamina it takes to make it in the business. But prior to 'The Voice' Ricky was an 'unknown' to many of us. So, who is this young man, and what makes him tick?
Below we have provide you with some basic information that will clear things up for you a bit. A list of ten things you likely don't know about Ricky Duran, his life, his family, and his goals should do the trick. If you have watch this rising star on 'The Voice' and have ever had any questions about him that he didn't answer on the show, you are in the right place to get the answers. Enjoy learning more about Ricky Duran!
1. Childhood and Family Facts
29-year-old Ricky Duran was born in Worcester, Massachusetts. His great love and appreciation for music was inherited from his father, who was also a musician but had to work at other jobs in order to take care of his family. He learned guitar from his father, beginning at six years old, and even played in a band with his dad while he attended high school.
2. Education
When he finished attending Grafton High School, Ricky went on to attend Berklee College of Music in Boston, where he studied Music Business. While he was there he formed a band of his own, which was managed by his father. Of course, having grown up around music and being an active participant in a band at a young age, he already had an abundance of knowledge that many are never lucky enough to get, and he carries this with him to this day. Not only does Ricky sing and play the guitar, but he also plays the piano and writes songs.
3. Family Tragedies
Sadly, Ricky's father, Ricardo, decided to commit suicide after his health began to go downhill; he was 60 years of age. He left his son with the legacy of music, and encouraged him to always continue on with it, doing what he loves to do. His mother, Odette, aged 66, also passed away only months ago from breast cancer. He considers what he is doing on 'The Voice' and in his career to be a tribute to his family, and desires to make them proud through his music.
4. Ricky's Siblings
Ricky does have three sisters who claim to be his 'fan club', and who he has always been very close to. Julia Tomaiolo and Maria Odette Duran, both of Shrewsbury, and Natalie Maigarie of Millbury, stand by their brother's side as he faces competition as a member of Team Blake on 'The Voice'. Of the four of them, Ricky is the 'baby', and his sisters have always looked closely after him. Their relationship has become even more close since losing both of their parents, though his sister Natalie, who is the second-youngest, says she played more with him as a child and was therefore probably closer to him than the others.
5. What Is His Nationality?
While he was born in Massachusetts, thus making him an American, Ricky is the son of Guatemalan immigrants, and he, himself, is Guatemalan. Factually speaking, he was raised in Grafton, Massachusetts, though he did claim to be from Worcester while on the show. As stated earlier, he currently claims Austin, Texas as his current place of residence.
6. Early Music Expression
When he was young, Ricky wasn't hanging with a band, at least, not until high school. But according to his sister Natalie, he was able to express himself through his music when just a child by performing for family and friends in the 'music room', which was located in the basement of the family home. He also entered high school talent competitions, and after forming his band, he and his band mates would compete in 'Battle of the Bands' competitions as well. In addition, his band would also play backyard gigs and local birthday parties. The Ricky Duran Band, which was managed by his father, was started while Ricky was attending college.
7. More Hardships, and Strength Realized
They say that tragedy strengthens us, and Ricky has had more than his share. Family friend Joanne L'Esperance and her son, Steve, were very active in the Duran family's lives, particular after Ricky's mother became ill; she was best friends with his mother, and Steve was best friends with Ricky. Unfortunately, Steve also made a decision to take his own life nearly five years ago. Ricky founded a local benefit concert for the American Foundation of Suicide Prevention after Steve's death. It is held every September in Worcester.
8. He Is An Award Winner
Ricky won the 'Best Male Vocalist' award at the Worcester Music Awards last April, and is now considered a 'key figure' in the Worcester music scene. He subsequently moved to Austin, and then auditioned for 'The Voice', which obviously accepted him. While he has had his struggles, he hasn't given up, and his strength and tenacity is an inspiration to all of us.
9. Gwen or Blake?
During the blind auditions, Ricky revealed to Gwen Stefani that the first concert he ever attended was 'No Doubt', Stefani's breakthrough band. His sisters attended with him, and said they were amazed when he opted to be on Team Blake rather than Gwen's team. The sisters also go on to say that while they are all huge fans of Stefani and No Doubt, Ricky felt that Blake was very genuine, and he felt compelled to chose him as his coach.
10. Guitar or Vocals?
The sisters also claim that, while Ricky can sing, he is a far better guitarist than vocalist. The could hardly wait for him to bring his guitar on stage on 'The Voice' so he could really 'wow' everyone. They also say that the young man is a guitarist on the level of Stevie Ray Vaughn, which is really something to brag about. As for what their parents would think of Ricky on the show? They claim that Ricardo and Odette would be 'thrilled'. They say it was their parents' dream that Ricky have a career in music, and they would be very, very proud.
With good reason.
While many winners of 'The Voice' have had the opportunity for prolonged success, few have grasped it. But Ricky Duran has an opportunity to do just that. It is our hope that this young man take this chance to the highest level, and we look forward to seeing how far he can go. He definitely has our support, and we wish him the best success possible.