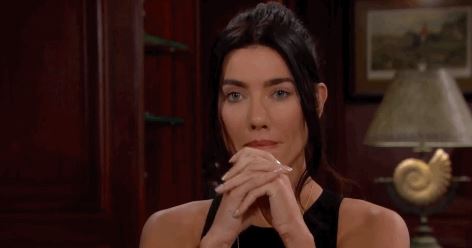 The Bold and the Beautiful fans know that Xander really is into Emma, but he's also got Zoe hot on his tail trying to get him back and make sure that her life is as good as she wants it to be. She's looking to ensure that they get their own version of happily ever after, and she's not about to sit back and not allow that to happen for Emma when she feels that it belongs to her. She feels that she's the one who should get the happily ever after and all the good stuff. We watched her sit back and reminisce about her life in England with Xander, and now she's feeling it even more. Emma and Xander enjoyed a fun day on the beach in a cabana, and it all worked out for them that way, but it's not over for them yet.
She's on a mission to take them down. We also saw that there is a lot happening for Steffy. Danny is back, and he's working with her. And we wonder if that means anything. She's met with her models to discuss things, to see if she can make improvements or changes to her line, and to put forth the additional effort it takes for her to get what she wants from this situation. She's in a place right now where she cannot be stopped. She has a mission to accomplish, and it's everything to her. She's going to make sure she's able to get her life together and keep her line going so that she wins. She's not looking to lose to Hope again. Her focus and determination is all it takes for her to win, and we are loving watching her make it happen – she will not lose one more time.
What's Happening on the Bold and the Beautiful
We ❤️ our amazing fans and the #BoldandBeautiful cast does too! Find out what their most heartfelt fan moments are. 💕 Tell us if you've met anyone from B&B! pic.twitter.com/wcz14Zq4gh

— Bold & The Beautiful (@BandB_CBS) September 10, 2018
If there is one thing B&B does well, it's share the cast with their fans. This week, they are discussing their favorite fan moments, and we love that. We love that they love the fans so much, and they realize that they would not have the success they have if it were not for the people who love to tune in to see them live their faux lives filled with drama five days every week. They love their fans, and the feeling is certainly mutual.
What's Next on the Bold and the Beautiful
TODAY: Steffy and Hope react to Ridge's decision. #BoldandBeautiful pic.twitter.com/o7jF5J8hBV

— Bold & The Beautiful (@BandB_CBS) September 11, 2018
Zoe is taking things to a new level of crazy. Not only does she want to get Xander back and make him her own, she's doing this by basically stalking him and making it seem like she's got a situation of her own to control. She's got a situation where she feels she can sit back and view what is going on with them by keeping her distance and not allowing them to see her watching. She's being super creepy, and they don't even know it. They know she's watching them when she's around them at work, but they don't know she's also watching them outside of that. She's keeping her eye on them, and she's learning how to make the moves she feels will work to make him hers. She's on to something of her own, and she's about to lay her plan right into action.
Now is the time that she has to change her feelings and her mind, and she's about to make that obvious. And, it turns out that Ridge is also looking to make things right in his own mind. He's ready to call a truce with his wife to make sure they can put an end to their fighting. All they are doing is arguing over Hope and Steffy – again. They are always fighting over their grown, adult daughters, with their own lives, who can take care of themselves. Ridge is about tired of it, but we think Brooke will never really stop advocating for her daughter as long as she's alive and well.
Stay tuned for more The Bold and the Beautiful and be sure to check out TVOvermind daily for the latest The Bold and the Beautiful spoilers, news, and updates.