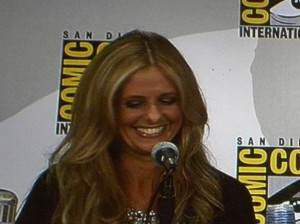 Sarah Michelle Gellar returned to Comic-Con for her second ever appearance and she was very welcomed by the fans. Joining her on the Ringer panel were fellow cast members Nestor Carbonell, Kristoffer Polaha, Ioan Gruffudd, as well as producers Eric C. Charmelo, Nicole Snyder and Pam Veasey.
This is the first series for Sarah after ending Buffy years ago. She told the audience that she always wanted to return to television, but wanted to come back to a show that fans and she would love. Producers Nicole and Eric approached her. They had three seasons already planned out and Sarah was very intrigued and loved the twists in the script. She later joked that she was personally involved in casting all the hot guys on the show.
As most of you probably know, Ringer was originally developed for CBS but moved to The CW. The panel insisted that The CW has embraced the serialized aspect of the show (but maybe with hipper music). It wasn't a difficult transition. CBS is more known for procedural shows, but Ringer works well on The CW. Sarah thinks they have some more freedom on the CW and can take more risks.
One theme that was brought up several times was that of moral ambiguity. Nestor likes the fact that all of Ringers' characters have moral ambiguities (which also occurred on Lost). Nestor also likes the noir aspect of the show and the fact that Sarah is attached. He says that the show is very tight and well-written. It's difficult to pull off a serialized thriller, but the writers are doing a good job.
They plan on answering questions along the way and not dragging out all the mysteries, but they intend to bring up a new mystery when the previous one is solved. They'll lead us down a path and when you think they know the answers they'll throw a wrench in. SMG knows where the story is going, but isn't involved in the writing aspect. In a nutshell, Bridget's story is one of redemption, while Siobhan's story is one of revenge.
Will viewers see equal amounts of both sisters? Bridget's story will ultimately be the focus of season 1. But they are going to have flashbacks and we will see the sisters together. We'll see Siobhan internationally and focus on Bridget's world on upper east side. Siobhan will get her own set of supporting characters. In the past, the sisters were on the same path, but bad choices diverged their paths. There's one incident in particular that caused irreparable damage and we'll learn more about this in season 1. They're still figuring out how to film the twin scenes by trial and error. Sometimes Sarah plays opposite a double, sometimes she hears the playback voice in an earpiece.
Ioan spoke a bit about his character. He thinks that Andrew is misunderstood. The current state of his relationship with his wife has devastated him. He wants his old relationship with Siobhan and can see hints of it while Bridget has taken over Siobhan's life. He also says that Andrew is upset about his current relationship with his daughter, Juliette.
Kris'character, Henry, is a married writer with twins, but believes that while Henry and Siobhan are having a affair, he definitely believes that Henry loves Siobhan. The pilot shows us that Siobhan isn't really a nice person, but Kris says that Siobhan shows a nicer side to Henry. Kris said that Henry is a really sophisticated man and completely different character from his character in Life Unexpected.
He also shared a piece of Buffy history. Kris was actually attending NYU when he got flown to LA to audition for his first acting role. He actually auditioned with Sarah and Joss Whedon, but ended up losing the part of Riley to Marc Blucas.
Sarah is very funny in person. She joked that she used to do tons of stunts while on Buffy, but was shocked when Ringer wanted to get stunt doubles to do her stunts.
Don't expect the publicity of the show to reveal all the of mysteries. The show is built on secrets and lies. They ask the CW publicity people to allude to where they're going, but they won't give away too much.
At its core, Ringer is a tale of two sisters. The show will be playing with themes of identity and duplicity. Everyone has two faces.
[imagebrowser id=1099 template = flipped]
clarissa @ tvovermind.com
twitter.com/clarissa373
twitter.com/tvovermind