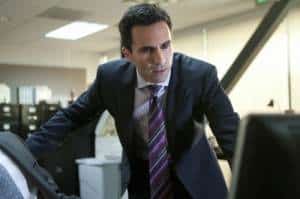 This week's episode of Ringer showed a lot of tension in Andrew and "Siobhan's" marriage. As Bridget fiddled with the hitman's phone, she came to the conclusion that Andrew might be involved with the men who were trying to kill her. She also learned that Siobhan was visiting with a divorce lawyer and when Andrew found out about it, he exploded at her. Eventually, the two managed to resolve their difficulties and Andrew suggested that they both trust each other.
Henry told Andrew that he wanted to pull their money from Andrew's hedge fund, but Andrew's business partner let the beans spill to Gemma (in hopes of keeping her father's business) and this caused a huge rift in their marriage.
Meanwhile, Victor is still trying to get information about Bridget from Siobhan, while Malcolm's been shot up with drugs by the criminal who is trying to kill Bridget. In Paris, Siobhan learned the unexpected news that she's pregnant.
In the October 4 episode of Ringer, Henry, Gemma, Bridget and Andrew head to the Hamptons to celebrate "Siobhan's" birthday. Henry wants to use the trip as an chance to rekindle his relationship with Siobhan.