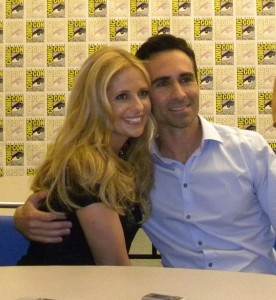 I have to admit, sitting at a table with Sarah Michelle Gellar is an unreal experience. In real life, she's sweet and very funny. I took part in Ringer's first ever press room at Comic-Con, as well as Sarah's second ever appearance at the large convention. Nestor Carbonell (Victor), Ioan Gruffudd (Andrew) and Kris Polaha (Henry) were joined by producers Eric C. Charmelo, Nicole Snyder and Pam Veasey for the press room. They sat down to talk to us about how they joined the show, what they love about their characters and what's in store for this mysterious new series.
Producers Eric C. Charmelo, Nicole Snyder and Pam Veasey
Up first was our table with the producers. Eric and Nicole originally plotted out three seasons. They think that actors like Sarah and Nestor who both worked on iconic shows have a built in fanbase and they want to make sure they do the fans justice. But they also believe that they are such good actors that they can easily slot into these different roles. Buffy fans may be disappointed about the lack of vampires, but there will be some action in Ringer, as well as suspense and danger.
The producers believe that the story can keep going because these characters can always be put in suspicious, dangerous and different situations that always open up another question. Once each question is answered, they will bring up new mysteries.
Flashbacks will be a part of this show. They explained that Bridget and Siobhan are basically like night and day and we will definitely be learning more about their history. We'll see the sisters together pre-estrangement and learn what lead to their estrangement. The show is about each character having two faces: one in private and one in public. They'll show us scenes in Wyoming, in Lake Tahoe (where Bridget and Siobhan are from) and New York.
A lot of noir films were the inspiration for Ringer, including The Last Seduction, Blood Simple and Dressed to Kill, as well as the show Damages.
Sarah Michelle Gellar and Nestor Carbonell
Next came Sarah and Michelle, who get along like old friends. Sarah joked that Ringer is like a cross between Buffy and Cruel Intentions. She also explained that she's in her 30s but is a big CW watcher (she likes Gossip Girl and America's Next Top Model) and believes that the network wants to broaden their age range a bit and Ringer can help with that. I agree with her because when you watch the show you'll recognize it is geared towards a slightly more grown-up audience than 90210, for example. CBS has a specific formula and audience and while she respects it, she thinks that The CW is probably a better fit in the end.
Sarah came into the show after Eric and Nicole pitched the idea to her, so she got involved after the initial planning stages for the next three seasons. While she has had some input, she said that she's very happy with what they came up with for the series.
Nestor was asked about his character and explained that Victor had a friendship with Bridget and was trying to protect her while she's going to be a witness, but then met Siobhan (who is actually Bridget) and believes that Siobhan is just as wily and crafty as her sister. He believes that each character is fueled by blind ambition and also thinks that Victor himself is hiding secrets.
Sarah says that each character will be going through emotional developments but believes that Bridget might be going through the biggest learning experience.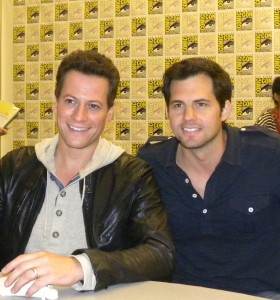 Ioan Gruffudd and Kris Polaha
These two debonair men were our last pair to be interviewed. Both Ioan and Kris were attracted to the fact that Sarah Michelle Gellar was attached to the project. They're currently shooting the second episode and said there are several questions that won't be answered until the end of the season, but there are many questions
Expect to be introduced to a new character in the second episode: Olivia, Andrew's business partner (played by Jamie Murray).
Ioan created his own backstory for his character. He believes Siobhan is a big part of Andrew's success and is the brains behind many things. But their marriage has soured for some reason and now he's desperate to have her back.
Kris was also told a few details about his character, Henry. He was told that Henry was born on the Upper West Side. He and the others on the show now live in a socialite world, but Henry doesn't really vibe with that group and Siobhan also didn't come from money, so they bonded over their similarities. Henry was in a position to make some major changes in his life before the pilot episode and hoped Siobhan might join him, but when Bridget takes over Siobhan's life, she upsets their relationship.
Ioan believes the show has a duty to answer questions of backstory: Siobhan and Andrew's marriage and their problems, as well as how Henry and Siobhan started their relationship.
Kris said that The CW has rolled out the red carpet for the show, including how much they're willing to spend per episode and on promotion for the show. Kris thinks The CW is a good fit for Ringer. He used the example of Supernatural (since he and Jensen Ackles are friends), which is a show that doesn't get huge ratings, but is currently going into its seventh season and has an impressive international appeal. He said that if a show like Ringer didn't premiere to good ratings on CBS it might not last, but that it can flourish on a network like The CW.
As a final comment, Ioan and Kris are dying to see a confrontation between their two characters when Andrew finds out about Siobhan's affair with Henry. I think the rest of us are as well.
You can also read more about the Ringer panel here, as well as view photos of the cast members.
clarissa @ tvovermind.com
twitter.com/clarissa373
twitter.com/tvovermind