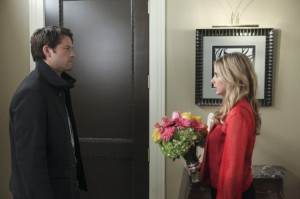 This week's Ringer took a step back from Bridget uncovering the mysteries of Siobhan. Normally, that would be a very bad thing, because the momentum of the show is really contingent on Bridget progressing in her quest and the audience learning more about Siobhan. But what Ringer did this week – and did well – was replace that mysterious quest with an emotional main story that infused the episode with something new. But let's not begin there. Let's actually begin with the subplots of the episode.
Subplot #1: Henry, His Money, and Malcolm
Whatever Siobhan revealed to Henry in the last episode of Ringer obviously had a big impact, because he started the episode by going to visit Andrew at Martin/Charles and asking to remove his money from the investment fund. He wasn't really subtle about it. He actually came right out and said that "someone" had warned him that Andrew was engaged in unscrupulous dealings and that, if it were true, he would clearly object to Henry withdrawing his funds. Andrew is either not engaged in unscrupulous dealings or was smart enough not to draw attention to them, so he agreed to let Henry's money go.
But this drew Malcolm's attention, as he was standing outside Andrew's office eavesdropping on the conversation. Later, Henry mentioned to Siobhan (over text, because she didn't appear this week) that Malcolm was now working at Martin/Charles. Immediately, Siobhan was concerned and ordered Henry to keep a closer eye on him. This actually had the unintended consequence of Malcolm deciding to keep a closer eye on Henry because later, when Henry returned to the firm, Malcolm spotted his keys, which contained a keychain that Bridget had mentioned was previously located in Siobhan's secret office. Now Malcolm is obviously wondering what Henry might have to do with cleaning out Siobhan's office after Bridget had found it.
Subplot #2: Juliet's Plan Unravels
Last week, we learned that Juliet's allegations of rape against Mr. Carpenter amounted to a bait-and-switch right out of the playbook of Wild Things. Unfortunately, the problem with partnering up with people is the fact that you can't really control what they do. Let's take Tessa, for example, who decided to drop $50,000 on an SUV. Tessa's doing splashy things with her part of the settlement, which immediately worries Juliet. She sets up a meeting with Mr. Carpenter (who is sticking around Ringer for a while, it would seem) and tells him she's worried Tessa will blow the whole deal. He tells her he'll "take care of it".
When Tessa ends up severely beaten and in the hospital shortly after, Juliet immediately thinks Mr. Carpenter is the one who did it. To be fair, it seems incredibly suspicious. When she confronts him about it, she warns him to back off. Later, she meets the plan's mastermind in the park, telling them about what happened with Tessa and how worried she is about what Carpenter is actually capable of.
Who is the mastermind behind the plan? Well, it was probably the biggest non-surprise surprise of Ringer, but it was none other than Catherine, Juliet's mother. She had also spent the episode trying to convince Andrew to let Juliet move with her to Miami, presumably so the two of them could blow through Andrew's money without him watching.
But enough about these subplots, let's move on to the meat of this week's Ringer.
Main Story: Wherein Bridget Tells Malcolm Why Siobhan Hated Her
This week's convenient clue that leads Bridget to another discovery about Siobhan (it is pretty coincidental how many of those she gets, isn't it?) comes courtesy of a flower delivery service, who have a standing order to deliver flowers each year to a woman out in New Jersey. Bridget heads out there and then goes in to meet the woman once the flowers are delivered. It turns out that it's this lady's birthday and she is, as Bridget soon realizes, Sean's grandmother. You might remember Sean from the photo of the young boy Bridget found in the pilot.
Seven years ago, Bridget and Siobhan were living together in Lake Tahoe. Siobhan had a young son named Sean. As it turns out, Sean's father was named Dylan (played by Misha Collins). Unfortunately, Dylan was kind of a bad father when Sean was first born, and his immaturity led Siobhan to try and keep him away from Sean. Siobhan's working hard while Bridget spends a lot of her time at home taking care of the boy. Fortunately for Dylan, she's a lot more receptive to having him in Sean's life. One day, he headed over to the twins' apartment while Siobhan was at work and asked Bridget if he could take her and Sean to the fair.
Rain cut their trip to the fair short, but while the trio was driving home, a terrible accident occurred. A driver who had fallen asleep at the wheel plowed into the car, killing Sean. Later, as Bridget heads to the boy's funeral, Siobhan is furious that she disobeyed her wishes to keep Dylan away from Sean. Bridget is contrite and grief-stricken and, after Siobhan heads off to New York to deal with her own pain, Bridget spirals downwards into alcohol, drugs and stripping.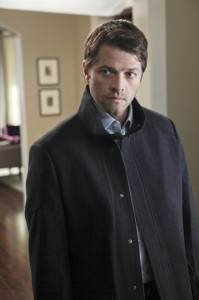 After Bridget made the trip out to New Jersey, Dylan decided to stop by for a visit, thinking she was Siobhan. He told her to stay away from his mother, since it only upset her. Bridget was upset to learn that Dylan had cleaned up his act and found himself a new family. But after discussing the situation with Malcolm, Bridget realized that there was forgiveness to be found here. She headed to Dylan's house again and (still as Siobhan) told him that she forgave him for his part in what happened to Sean.
In the interest of full disclosure, I should say that I'm a fan of Supernatural. That's probably obvious to anyone who follows my articles on this site. I liked Misha Collins on the show, but I never insisted that it should end because his character was put on extended hiatus since the beginning of the season. Am I a fan of his work? That's hard to say, because the truth is that I've never actually see him in anything but Supernatural, although I've always thought his work on that show was very good.
On this week's Ringer, I thought that Collins, as a guest star, was part of the finest scenes of the episode. Watching Collins and Sarah Michelle Gellar play off one another as two grieving people was a delight. For a while there, Collins elevated what can be trivial about Ringer to a new height and Gellar got to display acting chops that we all know she has (especially if you were a fan of Buffy) but has often been absent from this show because it's not really a serious show, despite, perhaps, wanting to be. It is for this reason that the absence of any progress in Bridget's hunt for the truth didn't matter all that much, because what we got instead was a rather good story that uncovered some secrets and had good acting.
Of course, now Bridget is convinced that she wants to tell people like Dylan, Andrew and Juliet the truth about her identity, because she's tired of pretending and really wants to be a part of their lives as herself. Naturally, I'm confident this will backfire spectacularly, but that's an episode for another day.
A new episode of Ringer will be airing on February 28. You can watch a trailer and browse through photos for the episode here.