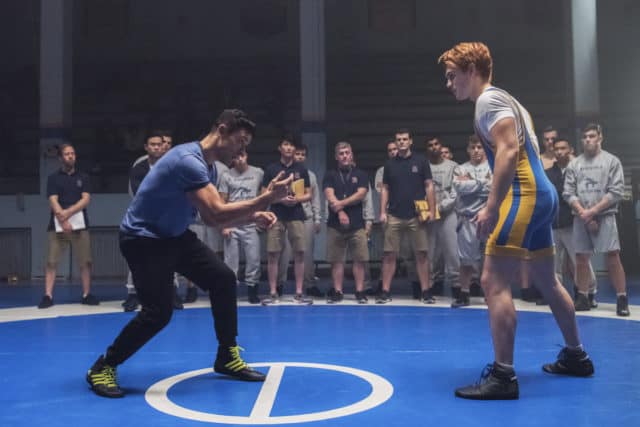 As Riverdale begins to dives into the dark stories the show will pursue in the second half of its sophomore season, some interesting ideas are developing. While the beginning of season 2 focused on the Black Hood, season two feels as though it is beginning to move away from the murder mystery idea and into a deeper development of how Riverdale operates. A lot of this has been due to the return of Veronica's father, Hiram, who had a large presence in last week's episode, "The Wrestler."
One of the more unique plots to develop has been Archie's growing connection with the FBI's Agent Adams, who is hoping to bring down Hiram Lodge. He has put Archie between a rock and a hard place but using scare tactics to get under the high-schoolers skin and threaten those closest to him. Everyone knows that Archie cares about his father more than anything, followed by Veronica, and the agent has immediately teased the idea that both could face trouble for being involved with Hiram. However, "The Wrestler," created some new possibilities for this storyline that make it feel a little more interesting than before. Agent Adams tells Archie that he should try and get on Hiram's good side, to become someone Veronica's father trusts. The episode dives into Archie suddenly doing everything he can to get on Hiram's good side, a man who already views Archie as being unworthy of Veronica's love.
"The Wrestler," focuses on Archie's attempt to join the Riverdale High wrestling team, which starts out pretty rough. He is completely out of his element and has to work harder than ever to hopefully make the team. The episode does a nice job of providing large amounts of tension between Archie and Hiram, giving both characters their time to share the spotlight and show off their strong will and desire to be in the position of power. The relationship between these characters is a fun one to watch develop, and Riverdale really goes for it in this episode. Archie's eventual success on the wrestling mat over Chuck is a feel-good moment and the build-up to his final scene with Hiram brings a whole new element to the story. While Archie might have started the episode looking to follow Agent Adams's orders, the show has been focusing a lot on the darker side of the characters. For Archie, things have been no different; earlier in the season he was ready to murder the Black Hood no matter what the consequences were, and now, it is beginning to feel like he legitimately wants to learn from Hiram and could possibly end up alerting him to the ongoing investigation.
As for the other characters, this episode dives deeper into the rabbit hole of darkness. Betty does her best to get closer to Chic, and she even gets him to open up about his online webcam services. The story with Chic feels a little strange up to this point because Betty claims to be trying to understand where her darkness comes from, but so far it only feels like Chic will manipulate her for his own profit. It would feel a little extreme to see Betty begin a similar (but probably less sexual) string of webcam scams, but Riverdale is never afraid to take it's drama to the next level. On top of this, the Cooper family seems like they will once again see a divide in the family members. "The Wrestler" really seemed to imply (what was expected) that Chic probably is not Hal's son, and this is the reason the family gave him up. The tension between Hal and Alice seems to reveal that there is still tons left unsaid about the mysterious Cooper brother, and Hal finding companionship with Penelope Blossom will only further complicate things.
Last week's episode of Riverdale really began to dial into the idea of how much corruption there is in the town as a whole. Jughead's story of uncovering the truth about Picken's Day was the best display of this, and how Riverdale will always cover things up to look like a perfect town on the surface. It's nice to see a bigger inclusion of the parent characters so far in season 2 and how they will become involved with the drama and behind the scenes control. Archie's story with Hiram has started out really fun, and it will be interesting to see which way he ends up leaning and how that impacts his father and Veronica. Either way, Riverdale is clearly just getting started, and while the Black Hood was wrong in how he exposed certain people, he was not wrong at all about the sins and corruption in this small town.
Riverdale S2E11 Review: "The Wrestler"