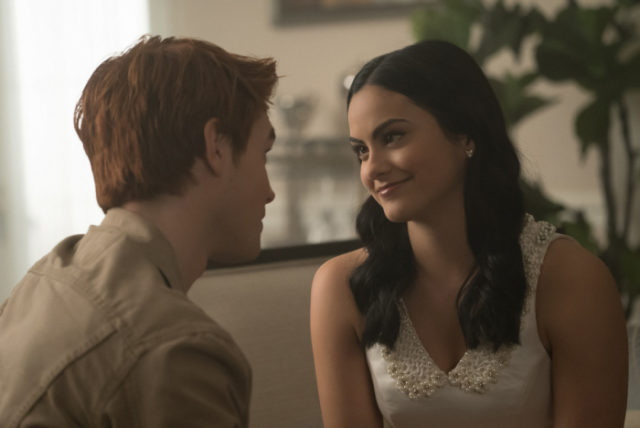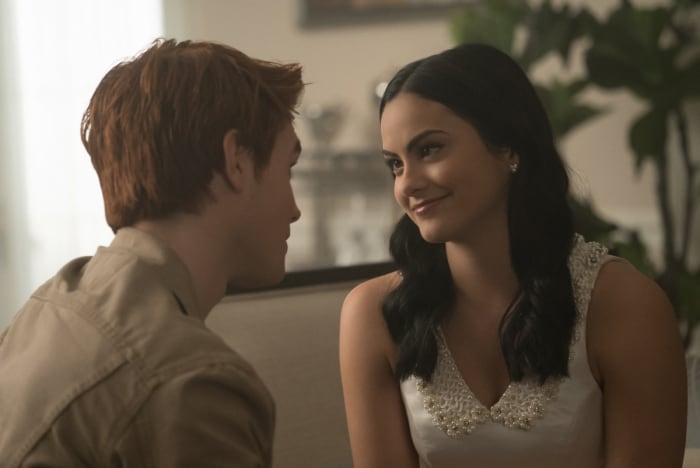 As Veronica tells Archie near the beginning of this week's episode of Riverdale, Catholics typically celebrate their confirmations at the age of 12 or 13, not 16. Catholics also don't typically let you process down the aisle to songs like "Bittersweet Symphony," and criminal poker games aren't typically held after-hours at a local diner, and FBI agents don't typically recruit minors to help with investigations and ask them to wear a wire without first consulting their legal guardians. But this is Riverdale. Does this show ever do anything "typical"?
If you can look past the ridiculousness of some of this week's plots, like the fact that the rival Hiram has killed is named "Papa Poutine" or that Betty is getting sexy webcam advice from her brother, "The Wicked and the Divine" is actually quite a successful hour of television. It embraces the insanity of this over-the-top teen drama but also devotes time to the complicated nature of the series' two core romantic relationships: Veronica and Archie and Betty and Jughead.
While the two couples can sometimes feel as if they're on different shows, their storylines actually parallel each other well in this week's Riverdale. Veronica struggles with the decision of whether or not to bring Archie fully into the darkness of the Lodge family business, while Jughead seeks Betty's help when Penny tries to oust him from the Serpents. Both storylines are about accepting those we love for who they are and being willing to expose the darker, more dangerous parts of our lives to the people who matter most. During the first half of Season 2, Jughead struggled with this greatly, pushing Betty away from his life with the Serpents in an attempt to protect her. But as he admits to Betty during "The Wicked and the Divine," all pushing her away ended up doing was lead to bad decision after bad decision. While Jughead wants to keep Betty safe, he also has to accept that she can handle the darker parts of his life and trust that she'll lead him to the light whenever things start to get too black and murky. With Betty by his side, Jughead won't make the same mistakes he made before; he won't fall into a world of drugs and violence, and he realizes that now, which is why he asks her to stay the night, leading to the two of them finally sleeping together.
While Betty serves as Jughead's metaphorical light in the darkness throughout much of this week's Riverdale, Archie becomes an actual light for Veronica when she stands in front of the monsignor during her confirmation. When the monsignor asks her if she renounces Satan and chooses to walk in light of the Lord, everything turns dark for Veronica, and she hesitates. Due to the devious nature of her family's business and her role in it, she isn't sure if she can say yes. But then she sees Archie, who literally transforms into her "beacon in the night," and she knows that everything will be okay. Similar to Jughead, Veronica acknowledges that, no matter what questionable decisions she may make, the pureness and goodness of Archie Andrews will keep her on the right path. This is why she initially decides to keep him unaware of her family's plans, but as Veronica sees Archie becoming closer with her father, she almost lets him in, almost lets him know the truth; in her mind, it's just like Jughead lying to Betty—telling Archie this will keep him safe.
However, Archie stops her before she can, knowing that hearing this information would not make him safe; it would do the opposite, and it would actually endanger not just him but also Veronica and potentially his father as well. Because the more Archie has to lie to FBI Agent Adams (like when he tells him he doesn't know anything about Papa Poutine's death in one of the episode's final scenes) and the more Archie has to lie to Hiram Lodge, the bigger target he's painting on his back. One way or the other, this house of lies that Archie is building is going to come crashing down, and when it does, that light he brings to Veronica's life will be extinguished. Who knows if either of them will be able to escape the darkness that follows?
Other thoughts:
I neglected to mention the dead body that Betty returns home to after she leaves Jughead's in the main part of my review, but it's a shocking moment for sure and one that could lead to some interest conflict down the line. But right now, I'm finding it so hard to care about Chic as a character that I couldn't care less about what dangerous stuff he's landed himself in. And Alice Cooper cleaning up and hiding a dead body? Well, that totally fits Alice's special brand of craziness.
I'm hoping that Tall Boy's betrayal will mean the end of his presence on the show. Nothing against the actor, but I can't take characters with names like "Tall Boy" and "Sweet Pea" seriously, no matter how bada** they're supposed to be.
We meet Veronica's abuelita and some of her other relatives in this episode, but we don't get enough time with them at all, which is a shame because I was looking forward to learning more about Veronica and her relationships with her extended family. Next time the Lodges come to Riverdale, I want more scenes with them, please.
One small moment that might be forgotten because of all the bigger plot twists in this episode: Archie discovers that Hiram is the owner of Pop's. He now knows that the Lodges bought the diner instead of donating money to help Pop keep it.
What did everyone else think about this week's episode of Riverdale? Comment below and let me know.
[Photo credit: Katie Yu/The CW]
Riverdale Season 2 Episode 12 Review: "Chapter Twenty-Five: The Wicked and the Divine"
Summary
Veronica's family comes to town for her confirmation, and Jughead and Betty reconnect in a solid episode of Riverdale.