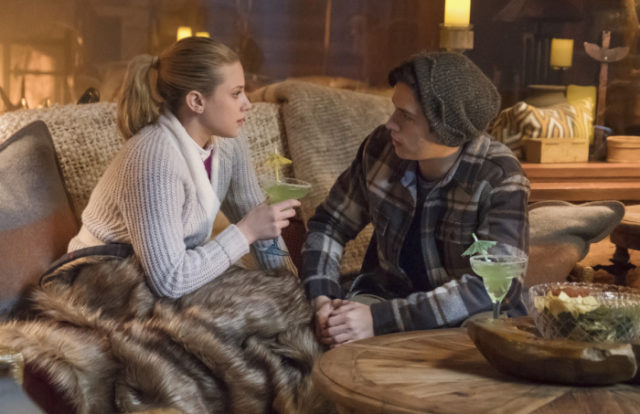 To create the richest, most satisfying dramatic moments, you don't have to stage gigantic set pieces or deliver mind-blowing twists. Most of the time, you just need to put your best characters together in a confined space and let them hash out their issues, which is exactly what Riverdale does with Veronica, Archie, Betty, and Jughead in "The Hills Have Eyes." The two couples head to Veronica's family cabin for a weekend away, but all of the secrets, suspicions, and drama that have defined the four friends' past few months in Riverdale find a way to invade their romantic getaway, threatening to destroy it, and their friendships, entirely.
The first of these secrets comes from Cheryl, who calls Jughead at the start of the couples' trip and informs him of Betty and Archie's kiss at Christmas. It's clear that Jughead is bothered by this news, but during his talk with Betty, he reveals it's not about the kiss itself but about the fact that she kept it from him for so long. Ultimately, the two of them confront the issue of Archie head-on, with Jughead admitting that he was initially threatened by him and his closeness to Betty; however, their connection no longer worries him, especially after everything he and Betty have been through recently, from covering up violent crimes to sleeping together for the first time. After a troubled start to Season 2, Betty and Jughead are back to being a strong, united duo, and nothing seems to be able to come between them, not even a quick kiss between Jug and Veronica which, as he puts it, "evens the playing field" between the two couples.
Jughead and Veronica's kiss does bother Archie, though, and the distance he puts between himself and Veronica leads to her following him into the woods and discovering that Hiram's driver and guard, Andre, never left the area, a fact that Archie promised Hiram he would keep secret. When Veronica realizes that Archie has been more loyal to her dad than to her, she storms away from him and vents her frustration by shopping with Betty and flirting with a cashier at a local store. Later on, she does forgive Archie for his deception, but she makes him promise to stick by her side first and foremost and not her dad's.
Unfortunately, I doubt that will be a promise that Archie keeps, given what happens later on in the hour with the hooded robbers (they steal Veronica's money and jewelry before Archie chases after them and tackles one of them to the ground, leaving him there to be executed by Andre). The more time Archie spends with Hiram, the more appealing he is beginning to find his way of handling things; only the two of them really know what happened in the woods, what Andre did to the one robber, and while Archie seems conflicted about the manner in which the thief was killed, he also doesn't appear to have any guilt over letting it happen. The entire incident understandably brings up memories of the Black Hood for Archie, and it makes him question his hesitation the night Betty and he caught him. Should he have killed the man who almost murdered his father? Should he have beaten to death the thief that ripped Veronica's necklace from her neck? Archie's not the cold, killing type, but I wonder if Hiram's lesson about not hesitating will cause Riverdale's protagonist to push things a little further the next time he's confronted with a criminal. Before Season 2 is over, I'm willing to bet that we'll see Archie Andrews cross a line he can't uncross, thanks to Hiram's instruction; for right now, though, his journey deeper into the darkness remains one of the most enjoyable parts of Riverdale Season 2, especially now that the fake FBI agent is no longer part of the story. Archie's struggle of allegiance, as he shifts between being more loyal to Hiram then more loyal to Veronica, is vastly more entertaining than watching The Adventures of Archie Andrews: Amateur Snitch every week.
While Hiram's influence over Archie creates problems for Archie and Veronica's relationship, he also stirs up trouble for their friendships with Betty and Jughead when they discover that he's purchased not only Sunnyside Trailer Park but also The Riverdale Register. Hiram's ambitious business dealings cause Betty and Jughead to grow suspicious of what he actually plans to do in Riverdale, and they take their frustrations out on Veronica and Archie, accusing them of being manipulative and foolish. Things start to get personal when both Betty and Veronica take shots at each other's sex lives with their boyfriends, with Betty suggesting that Veronica has used sex as a tool to brainwash Archie and Veronica insinuating that Betty and Jughead are so dull that they need costumes and wigs to get things going in the bedroom. The argument ends once the robbers break into the cabin and hold the gang hostage, and the core four seem to be more united than ever before when they sit down at Pop's near the end of the episode. However, this fight illustrates all four characters' issues with each other and insecurities with themselves, and even if these problems lie dormant for a while, there's a good chance we'll see them again before the season's over. Despite how hurtful the things Veronica, Betty, Archie, and Jughead say to each other in that scene are, there's still some layer of truth in what they are saying, and it's only a matter of time until those truths come out again.
For this week's Riverdale, though, that argument is the dramatic high point of the episode, even more so than the break-in that takes place afterwards, because it allows all four of our main characters to interact with each other in surprising and satisfying ways, which we haven't seen much in Season 2 because of how isolated everyone's storylines have been. To be honest, for a lot of this season, it's felt like Archie and Veronica and Jughead and Betty are on completely different shows. Hopefully, "The Hills Have Eyes" is a sign of things to come for the rest of the season, and we'll get more episodes that feature Veronica, Archie, Betty, and Jughead coming together instead of breaking apart. This show is at its best when it puts the four of them in a room together and just lets them do whatever they want. It's pretty simple, Riverdale writers, so let's make it happen more often.
Other thoughts:
Life still goes on in Riverdale while the core four head to Veronica's cabin, and there are a couple big developments this week. First, Josie tells Kevin about his father's affair with her mom after she learns that her parents are getting divorced. While Kevin is (rightfully) upset when he first learns the news, he and Josie bring her mom and his dad together later in the episode at Pop's and try to tackle the issue in a more adult way. It's a small storyline, but I really appreciate the friendship that develops between Kevin and Josie and how it shows both of them becoming more mature individuals. Then, there's Cheryl and Toni, who begin to connect after Toni overhears her calling Jughead about Betty and Archie's kiss at the beginning of the episode. The exchanges between the two of them are sweet, and I'm all for Cheryl finally getting a love interest. However, this story feels just a tad bit rushed, especially Toni going from not knowing who Cheryl is at the start of the hour to calling her "sensational" by the end of it. I also want to know more about Cheryl and her friend Heather because that's a lot of backstory being thrown at us in just one scene. Ultimately, I'm here for this romance, Riverdale, but take your time with it. Let it happen more naturally. Don't try to force it.
Also, while I appreciate a good marketing tie-in and know that Love, Simon is directed by Riverdale executive producer Greg Berlanti, what's up with the show using actual scenes from the film? It doesn't come out until next Friday, March 16, and Riverdale flat-out spoils major plot points from it throughout the episode. I still can't wait to see the movie but come on, guys. Don't ruin it for people who can't even go see it yet.
Chic remains THE WORST, and I'm glad Jughead thinks so, too. I'm also happy that he warns Betty about the weird vibe he got from him. This can't all be misdirection; there's something seriously wrong with Chic, and I will say again what I said earlier this season: I believe he's the real, true Black Hood.
Despite all of the drama, this is a also a very funny episode of Riverdale. I particularly love how each couple reacts to the other having sex and Jughead and Archie's stunned reactions when they learn about Betty and Veronica's kiss. "Betty tried explaining it last night, but the rationale still eludes me."
"Lodge Lodge."
What did everyone else think about this week's episode of Riverdale? Comment below and let me know.
[Photo credit: Dean Buscher/The CW]
Riverdale Season 2 Episode 14 Review: "Chapter Twenty-Seven: The Hills Have Eyes"
Summary
Secrets and suspicions threaten to ruin a romantic weekend away for Archie and Veronica and Betty and Jughead in a strong episode of Riverdale.