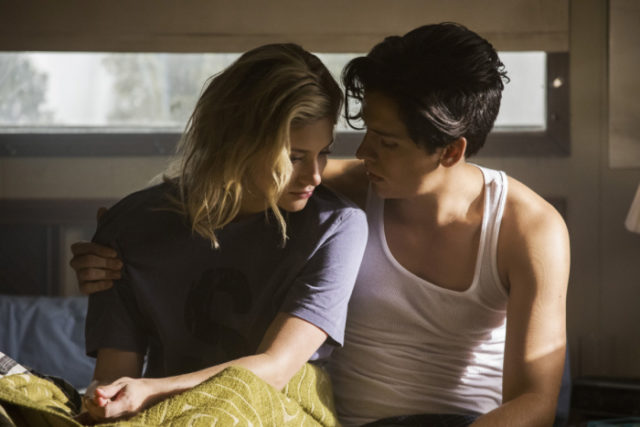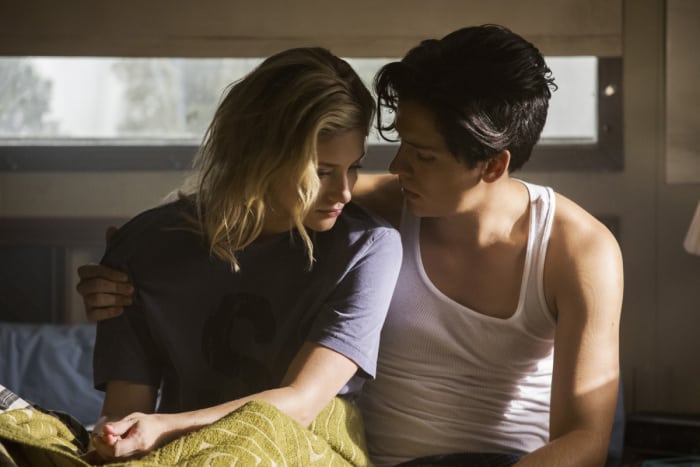 "Tales From the Darkside" is Riverdale's most technically ambitious episode of Season 2 so far, and while it doesn't pack the same emotional punch as some of this season's more compelling installments, it's still a whole lot of fun from beginning to end, as the series splits the hour into three separate segments. Our first story follows Jughead and Archie, who find themselves in a dangerous position after Jughead is asked to fulfill his favor to Penny Peabody. The second story of the night centers on Josie, who finally gets some time in the spotlight, as she struggles to deal with the overbearing restrictions her mom puts on her and new romantic interest from Chuck, who we last saw being taken down by Betty and Veronica early on in Season 1. And speaking of Betty and Veronica, they are the stars of the third story in this week's Riverdale, with the two of them teaming up together to find out exactly what Sheriff Keller is up to when he's sneaking out in the middle of the night.
Although all three stories share equal screentime, they don't all have the same dramatic consequences for the series as it moves forward this season. Josie's storyline in particular appears to be much more about establishing her character further than it does about pushing the Black Hood plot forward, and even though Betty convinces herself for much of her and Veronica's story that Sheriff Keller is indeed the Black Hood, their segment of the episode plays more like a Scooby Doo-like lark than a dark tale of intrigue. Ultimately, B and V discover that Veronica's theory about Sheriff Keller is right and that he has been having an affair with none other than Josie's mom, Mayor McCoy. Perhaps this "sin" is the real reason why the mayor has been receiving death threats, which have in turn made her so fearful that she requires Josie to return home before dark every day.
But even if you want to consider Sheriff Keller and Mayor McCoy's dalliance a crime of sorts, it's nothing compared to what Jughead has gotten himself involved in by choosing to move the crate of drugs for Penny in an effort to help get FP out of jail. There's real pathos in Jughead's story in "Tales From the Darkside," even when it takes a turn for the utter ridiculous with Mr. Creepy Truck Driver, who feels pulled out of a bad '90s horror film, recounting the story of the Riverdale Reaper to Jughead, his presence almost sinking the whole episode before it even gets started. When it comes down to it, though, this segment of "Tales From the Darkside" is all about a son and the lengths he's willing to go to help his father, and given what we've seen from Jughead and FP's relationship in the past, the actions here feel earned and honest. Aside from Betty, FP is the only person that Jughead really feels like he can be himself around (not to mention, he's his father) so of course he'd take stupid, unnecessary risks if he thinks it could help him, especially if he fears that FP might be getting hurt for something he was associated with.
Unfortunately, though, the "injuries" that FP suffered are just a story spun by Penny to get Jughead to do her bidding, and since she has him and Archie on camera carrying the crate into the building and threatens to use it as blackmail, she can essentially make Jughead do whatever she wants now. Although this twist is pretty predictable (FP did warn Jughead to stay away from Penny), it also sets up some potentially exciting conflicts for future episodes, as Jughead will more than likely find himself trapped and unable to refuse Penny's crime-filled requests. How will that impact his relationship with Betty? Will these crimes cause the Black Hood to look Jughead's way? And will Archie be by his side again for another one of these excursions? The best friends have always had one another's backs up until now, but that final scene between them at Pop's signals a shift in their dynamic, as Jughead continues to be pulled in to the world of the Serpents. Maybe it's not Jughead's relationship with Betty that Riverdale fans have to worry about so much; maybe they should be more concerned about his friendship with the show's red-headed protagonist.
As I mentioned above, that conversation between Jughead and Archie takes place at Pop's, where so many big moments in "Tales From the Darkside" occur, from Josie and Chuck's impromptu dance to Betty and Veronica's decision not to tell Kevin about his dad and Mayor McCoy's affair to that foreboding phone call on which the hour ends. Ultimately, this week's Riverdale serves a fun detour, a creatively structured hour that proves that the people we believe support us might not always have our best interest at heart (just look at Penny's lies to Jughead or Cheryl drawing the picture and planting the pig heart to frame Chuck and convince Josie to stay away from him).
But those small dangers are nothing compared to the Black Hood, and if Pop is to be believed, the killer is declaring open season on the people of Riverdale. In the Black Hood's mind, things are black and white; there are no shades of gray. Whether you're Jughead transporting drugs, Josie lying to your bandmates, or Betty and Veronica snooping and spying on the sheriff, you better watch out, because in the Black Hood's eyes, you're a sinner. And if you're a sinner, there's no doubt about it: he's coming for you.
Other thoughts:
Personally, I'm not one for giving second chances to guys who treat girls the way Chuck did, but I'm curious if Riverdale will actually try to bring back his character again and rehabilitate his image or if he'll only just be back for this one episode.
While I didn't necessarily love the story Josie was given in "Tales From the Darkside," I was very pleased to see her get more screentime and also very happy to listen to her sing. Ashleigh Murray has a beautiful voice, and the less over-produced, more striped-down song she sings in this episode really showcases that.
I could not stop laughing during the basement scene with Veronica and Sheriff Keller. Veronica is totally checking him out, and Camila Mendes agrees with me. "I mean, Archie Andrews, watch your back."
I'm all for the bromance of Archie and Jughead and was happy to see them together in a storyline tonight, but what I love even more is Betty and Veronica sleuthing together. Can we get this every week, Riverdale writers? And make sure you use the same score again. It was so much fun.
Also, I'll never doubt Veronica Lodge's intuition again. The girl knows when an affair is happening.
"On second thought, it looks like they're having an intense bro-ment."
What did everyone else think about this week's episode of Riverdale? Comment below and let me know.
[Photo credit: Jack Rowand/The CW]
Riverdale Season 2 Episode 7 Review: "Chapter Twenty: Tales From the Darkside"
Summary
Jughead finds himself in major trouble, and Betty and Veronica investigate Sheriff Keller in a fun, creative episode of Riverdale.