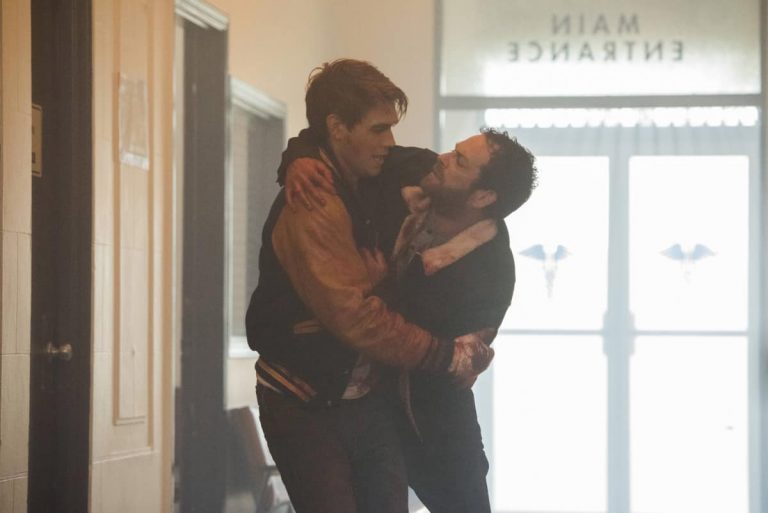 Last year Riverdale burst onto the scene with a great first season that added another strong comic book television adaption to The CW's arsenal. Everything led to an intense and insane season finale that solved one murder but quickly left viewers hanging with another when Archie's father, Fred, was shot. Season 2 of Riverdale picks up right where the previous left off and quickly establishes that the show will once again focus on a murder mystery, but is making sure to diversify things with this new case.
One of the most appealing aspects of this new murder mystery is that it focuses directly around Archie. Season one's murder did a great job introducing viewers to the town of Riverdale and all of the twisted shared history between the different characters. As a main character, Archie is the complete golden boy who has few problems in his life, which made the character come off as annoying and selfish a lot of the time. Having the attempted murder be on Fred puts Archie into a serious and disturbing conflict right from the start, which feels like it's going to really impact the type of character he develops into throughout the season. "A Kiss Before Dying," already shows that Archie plans on pursing this himself by lying to the police and trying to push Veronica away. The season has a lot of new moving pieces on its board which will definitely impact who Archie trusts and doubts. His relationship with Veronica will probably be tense because of the recent events between their parents. Or he might begin to question his friendship with Jughead because of his growing relationship with the Southside Serpents. Either way, Riverdale presents a nice change in attitude by being unafraid to push the protagonist to a dark place in this premiere episode.
Along with the shooting's impact on Archie, another interesting aspect to Riverdale's sophomore season will be the fact that Fred survived the murder attempt. This brings a unique aspect to the murder mystery and seems like it will be a fresh avenue to explore because of how it impacts the case and the character. The dream sequences that Fred experiences in the premiere are upsettingly nice, revealing multiple big life experiences he will miss if he doesn't pull through. The relationship between Archie and Fred is one of the show's best and the dreams are a great way to further display that. The father gets to see some of the most important moments in his son's life until they are all disturbed by the Angel of Death. The development of the father and son bond throughout this season will be really interesting to watch develop; Fred wakes up when he's about to take a bullet for Archie, and Archie immediately promises to protect his father at any cost. There are touching moments here, but again, with Archie seemingly out for revenge, how will it impact their relationship moving forward?
Season two seems to be stripping away the support system that surrounded the main character group, which was a large reason that the murder of Jason Blossom was able to be solved. Being a high school drama, Riverdale is going to explore lots of emotions, and the premiere quickly dives into some of the more radical elements of this aspect. It seems like the show is going to really push Archie's character to the edge and have him deal with most of these events on his own. The only character who he has the best chance of growing closer with is Betty, who has always been his best and most trustworthy friend. While season one of Riverdale did a nice job of building up all of its relationships, season two feels like it will do everything in its power to break them back down.
Other Thoughts:
– Great work by K.J. Apa tonight. I personally was 50/50 on his acting in the first season but tonight he killed it.
– Laying the groundwork for Sabrina. Nice.
– Cheryl is going to be such a great character this season, completely unhinged at this point…. Wildcard!
– Curious to get any reader's Angel of Death theories… the obvious one after tonight is that the killer is an ex of Grundy's. Maybe she ran away from a previous relationship and essentially was cheating with Archie when their affair happened. That person would have motive to kill her and want to see Archie suffer rather than immediately die…?
Comment below if you have any other ideas!
Riverdale S2E1 Premiere Review: "Chapter Fourteen: A Kiss Before Dying"