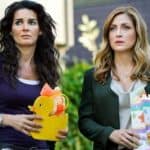 Rizzoli & Isles stars, Angie Harmon and Sasha Alexander, deliver surprising news both in the episode, 'Hometown Glory'and off the set in a week full of surprises.
In 'Hometown Glory', Rizzoli & Isles (r.,Angie Harmon and Sasha Alexander as Detective Jane Rizzoli and Medical Examiner, Dr. Maura Isles) investigate the murder of a boy band star, a childhood friend of Frankie Rizzoli (Jordan Bridges) and the Rizzoli family. When singer, Shane Finnegan, is shot to death in Boston's 'Combat Zone', a drug-buy-gone-bad is the first thought.
When Shane's pop-star girlfriend is found dead in the area, the suspected drug angle gets support on the surface. Shane's manager, his ex-con father and family are thrown into the mix as drugs are ruled out and deeper motives evolve in the shooting. 'Hometown Glory'rolls out more revelations as evidence mounts. It is revealed that Jane is the subject of Shane's biggest hit, 'Boston Beauty'and that her favorite junk food is chocolate-covered bacon (as voted by Rizzoli & Isles fans).
The bigger surprise comes when Lydia Sparks (guest star, Alexandra Holden) reveals to Jane Rizzoli's mom, Angela (Lorraine Bracco) that either Angela's ex-husband or son, Tommy, is the father of her soon-arriving baby. Bracco reveals the depth of betrayal by Jane, Maura and Frankie, who already knew the possible identities of Lydia's 'baby daddy'with quiet dignity.
With pain in her eyes and a set jawline, Bracco rides the devastation as she feels Angela's identity slipping away. Angela rejects the pregnant Lydia, Rizzoli & Isles and Frankie at the baby shower she throws for Lydia.
For surprises off-the-set, check out Sasha Alexander's interview with TV Guide Magazine's July 30-August 12 issue as she flies high on a trapeze above Santa Monica Pier (also available at http://www.tvguide.com/News/Day-Sasha-Alexander-1050915.aspx?rss=news&partnerid=spi&profileid=05. Also take a moment to see Angie Harmon in an interview with Conan O'Brien about her fangirl quest to play She-Hulk , http://www.youtube.com/watch?v=DrDBJPe_ZWA.
Janet Tamaro who developed Rizzoli & Isles for television from the novels by Tess Gerritsen, penned 'Hometown Glory'and infuses the episode with a maze of surprises that leads to an unexpected climax. The perfect springboard to the August 14th summer season finale at 9 p.m. on TNT, 'Hometown Glory'can be seen again on Saturday and Tuesday on the cable network. Check local listings.