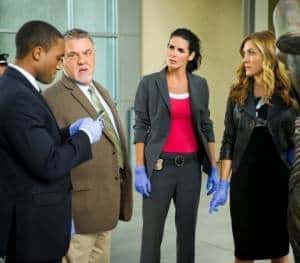 Need to catch up on Rizzoli & Isles before the summer season finale? For those who only recently have found TNT's hit drama, the cable net is airing a marathon of episodes from Season 1. (Check local listings.)
Kicking off the marathon is 'See One. Do One. Teach One.'in which Rizzoli & Isles investigate the murder of a wealthy couple. The dynamic between Detective Jane Rizzoli (Angie Harmon) and medical examiner Maura Isles (Sasha Alexander) is rolled out in prime form. This first episode of Season 1 explores a possible suspect, a serial killer known as the Surgeon, who once tried to murder Detective Rizzoli. Harmon has an opportunity to display her acting chops, both with Alexander and guest star, Billy Burke (the 'Twilight'saga).
Next up is the series'second episode, 'Boston Strangler Redux'. The relationship between Rizzoli & Isles is defined further, as are their distinct personalities. The squad investigates murders committed in the style of the Boston Strangler. Donnie Wahlberg guest stars a man from Jane's past, and Sasha Alexander's portrayal of the socially-challenged Maura Isles establishes itself as a comic gold mine.
'The Beast in Me'from Season 1 delves into the pasts of Rizzoli & Isles. The squad investigates an identity thief, explores the Irish mob and examines the dysfunctions of family. Oscar nominee Chazz Palminteri (Bullets Over Broadway) returns as Frank Rizzoli. John Doman (Damages, The Wire) and Chris Coy (True Blood) guest star.
When an undercover cop is shot and the killers target Boston Homicide, Rizzoli & Isles are cornered in 'When the Gun Goes Bang, Bang, Bang', the last episode in this marathon.
The stellar cast of Rizzoli & Isles includes Lee Thompson Young as Detective Barry Frost, Bruce McGill as Sgt. Detective Vince Korsak, Jordan Bridges as Officer Frankie Rizzoli Jr., and Brian Goodman as Lt. Detective Sean Cavanaugh. Lorraine Bracco (Goodfellas) creates the quintessential mom, Angela Rizzoli.
Rizzoli & Isles is summer's #1 returning scripted series on basic cable and has received a pickup for a fourth season of 15 episodes. Rizzoli & Isles averages 7.1 million viewers in Live + 3 delivery, pulling impressive numbers in key demos.
Rizzoli & Isles is from Warner Horizon Television and is executive-produced by Janet Tamaro of Hurdler Productions, Bill Haber of Ostar Productions and Michael Katleman. The next Rizzoli & Isles first-run episode will be the summer season finale on August 14 on TNT.