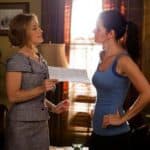 A series of ordeals have caused Rizzoli & Isles to suffer several emotional wounds recently. Boston Medical Examiner, Dr. Maura isles (Sasha Alexander) met her biological mother, (Dr. Hope Martin, portrayed by Sharon Lawrence) only to be rejected by both her birth mother and half-sister Cailin (Emilee Wallace).
Detective Jane Rizzoli (Angie Harmon) was kidnapped by a delusional murderer (David DeLuise), but was saved by Maura, Jane's brother, Officer Frankie Jr., Detective Vince Korsak (Bruce McGill), and Detective Barry Frost.
Jane's mother, Angela Rizzoli (Lorraine Bracco) is facing another 'life complication'with the introduction of Lydia Sparks (Alexandra Holden). Lydia is a pregnant woman who may be carrying the child of Angela's ex-husband (Chazz Palminteri) or Jane's brother, Tommy (Colin Egglesfield).
In the episode, 'Cuts Like a Knife', Rizzoli & Isles investigate the murder of a would-be bride. The suspect pool is varied. The detectives and medical examiner investigate the groom's ex-girlfriend, as well as the bride's connection to suspicious European roots.
Meanwhile, there is a new player in the Rizzoli & Isles orbit. Jane gets a new neighbor who piques the interest of Angela (Lorraine Bracco), Frankie (Jordan Bridges) and Frost (Lee Thompson Young).
The show is executive-produced and developed for television by Janet Tamaro of Hurdler Productions. Tamaro was awarded a Gracie Allen Award from the Alliance for Women in Media Foundation, a Women's Image Network (WIN) Award and Prevention magazine's Healthy TV Award for her work on the show. Learn more about Tamaro at her 'Creator's Corner'at http://www.tntdrama.com/series/rizzoliandisles/displaySpecial/?contentId=349515.
The 'Cuts Like a Knife'episode of Rizzoli & Isles premiers July 24, 2012 and comes from Warner Horizon Television. For 'fan fun'with Rizzoli & Isles, check out 'Angela's Café & Crime Blog'at http://www.division1cafe.com/
Rizzoli & Isles airs on TNT, Tuesday nights at 9pm, ET/PT. The episode, "Cuts Like A Knife" was written by David Gould & Sal Calleros, and directed by Emmy-nominee, Randall Zisk.