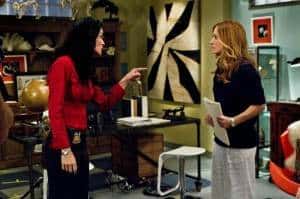 Rizzoli & Isles blasted its way into its premiere of Season 3 with a .45 caliber punch. When a sting that has Dr. Maura Isles (Sasha Alexander) going undercover goes awry, her best friend, Jane Rizzoli (Angie Harmon), is forced to shoot Maura's biological father, Boston mob boss, Paddy Doyle (John Doman). The cast and story run the gamut of emotions in exquisite style, making us laugh and cry in the same breath.
Alexander wrings every fear and hope of an adopted child seeking information from a biological and adoptive parents with haunting in her eyes and restrained expression that breaks your heart. Harmon's reactions to her perceived betrayal by love interest, federal agent Gabriel Dean (Billy Burke), reflects the pain of every speed bump felt in a relationship that has gone off course. With their characters' relationship strained beyond the breaking point, Harmon and Alexander exude the despair of losing one's best friend with both ferocity and poignancy.
The episode, aptly named "What Doesn't Kill You", is a combustible work of art. The tensions of strained relationships is offset with hysterical flashbacks. The humor of Jane and Maura meeting with Jane, undercover and dressed as a hooker, is a laugh-out-loud situation. Maura's elation at her own first undercover assignment allows Alexander an opportunity to display her spot-on comic timing. Rizzoli & Isles takes full advantage of the chameleon abilities of Harmon and Alexander. If the audience did not know that Harmon was Law & Order's Abbie Carmichael and that Alexander was NCIS's Caitlin Todd, it never would be able to recognize them in Rizzoli & Isles. Their transition to these two characters is flawless.
Also flawless is the strength of the supporting cast. Lorraine Bracco's portrayal of Jane's mother, Angela, is that of a "real" mom. Her love for Jane and Jane's police officer brother, Frankie (Jordan Bridges), is one of "Every-Mom". Her inclusion of Maura into the extended family fills the gap of closeness that the doctor does not get from her relationship with her own mother (Jacqueline Bissett). Also part of the familial closeness are Jane and Maura's detective colleagues, Vince Korsak (Bruce McGill), Barry Frost (Lee Thompson Young) and their boss, Lt. Sean Cavanaugh (Brian Goodman). Their family-style banter in the premiere relieves the tension of the drama, the fights and the deteriorating relationship. When guest star, Ed Begley as Medical Examiner Pike records Jane and Maura's "catfight" (the show's words, not mine) on his smartphone, the viewer cannot restrain the laughter.
This episode is the perfect way to start watching Rizzoli & Isles if you have not seen it yet. The flashbacks of how Jane and Maura met are well-crafted and explain the motivation and lifestyles of both women. The relationships between parent and child, friends and colleagues, and the perception of "self" versus what others think are delivered at top quality by the cast and crew. The past experiences that have molded the characters to be who they are today are well-crafted and performed at a superb level. Alexander's performance is heart-wrenching and never misses a beat. Harmon's tough exterior belies the pain she feels over a father's desertion. And the "catfight" scene is both hysterical and so-not-"girlie".
Maura's question of why her parents gave her up for adoption is answered. Paddy Doyle, her biological mobster father, fell in love with a "Harvard girl" who became pregnant. Paddy was set to inherit the top-mob position in Boston and knew that his dad would have the baby and Harvard girl killed if the truth came out. He appealed to Maura's adoptive mother, Christine, an art professor, to take the baby and keep the secret. Christine had been the only person in his life who saw through his tough-guy exterior and encouraged his art. Christine took the baby and Paddy made sure that everyone thought that Maura had died at birth. His last artistic effort was a beautiful drawing of a woman kneeling at a gravestone that hangs in Maura's apartment.
When Jane and Maura argue, Jane makes Angela choose between living in luxury at Maura's or staying with Jane in her small apartment. When Angela goes with Jane, Maura gives Angela the drawing, which is the clue to stopping the witch hunt at the BPD. Jane and her buddies are set up to take the fall by rogue FBI agents working with a dirty cop. The picture, a .45 caliber gun and some creative police work take Jane to the cemetery where she finds the headstone of Baby Maura Doyle who was supposed to have died in childbirth. Buried by the stone is Paddy's book with names from his "organization", including the names of the dirty FBI agents. Alimi Ballard, who has logged enough TV hours as a federal agent to become one in real life, ends up unceremoniously stuffed in a 55-gallon drum. His death is necessary to cover the last link to the really-really bad guy, the head of the FBI investigation who tries to kill Jane with the above-mentioned .45. Of course, the trap is sprung by the removal of the gun's firing pin with Korsak, Frost and Cavanaugh bursting into to Paddy's hospital room to arrest the rogue FBIer.
With the trap sprung on the agents, Harmon has a chance to shine as the "take no prisoners/in your face" Rizzoli. When Jane takes Maura to the cemetery to see the fake grave, there is a glimmer of reconciliation between the two, subtly played to perfection by Harmon and Alexander. Fabulous performances by all make Rizzoli & Isles a definite "must-watch" for this summer. Rizzoli & Isles is on TNT on Tuesday nights at 9pm ET, and "What Doesn't Kill You" is likely to repeat soon. Watch for it.