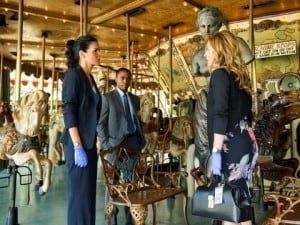 Rizzoli & Isles third season was a season of change with startling highs for some characters and a plummet for another.  The superb Sasha Alexander portrayed every facet of the complicated medical examiner, Maura Isles.  Alexander's performance ranges from clever comedy to devastating drama with all shades in between the two.  Angie Harmon, as Jane Rizzoli, manages to convey heartbreaking pain with a crack in her voice and lights up the precinct with her smile.
Flanked by a fabulous cast, Harmon and Alexander are hot on the trail of a serial killer who encases his victims in plaster in the summer season finale, "Melt My Heart To Stone".  Eddie Cibrian guests as Dennis Rockmond, an author in whom Maura is interested.  Their brief, intense courtship results in one of them falling seriously and one seriously falling.
Cast members Jordan Bridges, Bruce McGill, Lee Thompson Young and Brian Goodman grab the opportunity, yet again, to take their characters (Officer Frankie Rizzoli, Detective Vince Korsak, Detective Barry Frost and Lieutenant Sean Cavanaugh, respectively) from acerbic to supportive.  A surprising new detective/old flame is assigned to Homicide, killing Frankie's shot at promotion.
The best story of the episode belongs to Angela (Lorraine Bracco) when the pregnant Lydia Sparks (guest star Alexandra Holden) delivers the baby that belongs either to Angela's ex-husband or her son, Tommy (Colin Egglesfield).  When Lydia leaves the baby on Angela's doorstep and disappears, the love and acceptance in Bracco's eyes reveals Angela's ability to make hearts melt and forgive, above all else.
The Rizzoli and Isles summer season finale, "Melt My Heart To Stone" was popular among viewers, averaging 6 million.  Rizzoli & Isles returns for its winter season in November.  Rizzoli & Isles episodes can be watched here.  The website also offers fan fun from Angela's blog to "Detect the Difference" and other exclusives.