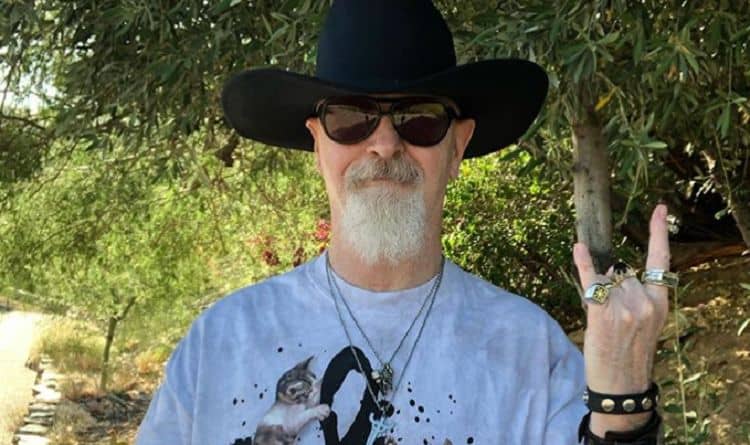 Chances are good that fans of rock music will have heard of Rob Halford. This is because he is the lead vocalist of Judas Priest, thus making him one of the most influential rock musicians in the entire world. Recently, Halford revealed that he is working on his memoir, which should come as welcome news for those who are interested in learning more about him. Here are 10 things that you may or may not have known about Rob Halford:
1. Born in Sutton Coldfield and Raised in Walsall
Halford was born in Sutton Coldfield, which is a town in England's West Midlands. With that said, he wasn't raised in Sutton Coldfield but rather in the town of Walsall in the same region. To be exact, Halford was raised in a housing estate called Beechdale, which can boast of having been home to two other rock musicians of note in Noddy Holder of Slade and Martin Degville of Sigue Sigue Sputnik.
2. He Was Running a Porn Cinema When He Was Introduced to Judas Priest
When Halford was introduced to Judas Priest, he was still the manager of a porn cinema. Suffice to say that this turned out to be an excellent career move on Halford's part, not least because porn cinemas have seen a huge hit because of the popularization of the Internet. As for how Halford was introduced to Judas Priest, that happened because of his sister Sue, who was dating the Judas Priest bassist Ian Hill at the time.
3. Debuted on Rocka Rolla
Judas Priest has seen a lot of lineup changes over the course of its existence. Something that was true even before Halford joined up alongside his Hiroshima band-mate John Hinch. However, most people aren't too familiar with the pre-Halford lineup, which makes sense because Halford got his debut on Judas Priest's first studio album Rocka Rolla in 1974.
4. Quit Following a Motorcycle Malfunction
Halford has a fondness for riding motorcycles onto the stage. Unfortunately, when he did so at a concert in Toronto in August of 1991, he fell because of a motorcycle malfunction. As a result, Halford lose consciousness for a short period of time, which was on top of him losing consciousness. He recovered in time to finish the show, but he followed up by announcing that he would be leaving Judas Priest before suing their record label on the basis of restrictive practices.
5. Had Some Projects Before the Reunion
In time, Halford reunited with Judas Priest. However, before that happened, he had a number of projects. For example, he formed the band Fight with four other individuals, which resulted in three releases before the band broke up. Likewise, there was the solo band Halford, which was Halford's return to his heavy metal roots. Finally, there was a team-up with the guitarist John Lowery called 2wo that wasn't as fruitful as the other two projects with just one release under its name.
6. He Was in Brütal Legend
Brütal Legend was an action-adventure game that came out in October of 2009. In it, players took on the role of Eddie Riggs, a roadie turned the savior of the human inhabitants of a fantasy world inspired by heavy metal album covers. The title saw the involvement of a number of well-known heavy metal musicians, with examples ranging from Lemmy Kilmister to Ozzy Osbourne. Halford voiced two characters in Brütal Legend, one of whom was inspired by his look when performing on the stage.
7. Concerned About Coming Out in the 1990s
In an interview with the Edmonton Journal, Halford revealed that he was very much concerned about losing fans when he came out of the closet in the 1990s. After all, there are a lot of gay people who have suffered serious blows to their professional lives because of their sexual orientation, meaning that was a perfectly rational fear on his part. Furthermore, while homophobia is still very much a thing in the present time, it was even worse in the 1990s. Never mind the 1970s and the 1980s when Halford struggled to keep his sexual orientation a secret.
8. Big Fan of Fantasy
Perhaps unsurprisingly, Halford is a big fan of fantasy. In particular, he has stated that Gormenghast is one of his personal favorites. For those who are curious, Gormenghast is a series centered on the inhabitants of Castle Gormenghast, which is a huge stronghold that is secluded from the rest of the world thanks to its isolated location. As a result, the inhabitants are both insular and stagnant in nature, as shown by the extent to which their lives are centered upon laborious and time-consuming rituals that they no longer remember the meaning of. Having said this, Halford is receptive to more modern works of speculative fiction as well, with The Avengers being an excellent example.
9. Is Still Tempted By Alcohol and Cocaine
It has been more than three decades since Halford became sober, which he credits for having saved his life. However, he is still very much tempted by alcohol as well as cocaine, thus serving as a reminder that maintaining sobriety can be a life-long struggle.
10. Says that His Upcoming Book Will Be a Memoir Rather than an Autobiography
Halford has said that his upcoming book will be a memoir rather than an autobiography. Presumably, this means that the book won't cover his life in full but will instead focus on a particular part of it so as to provide interested individuals with a more detailed look than otherwise possible. Whatever the case, Halford has also said that his memoir will contain material that will surprise people, make people sad, make people angry, and make people happy because of the range of material that will be included in it. Something that should come as welcome news for Halford fans as well as Judas Priest fans in general.