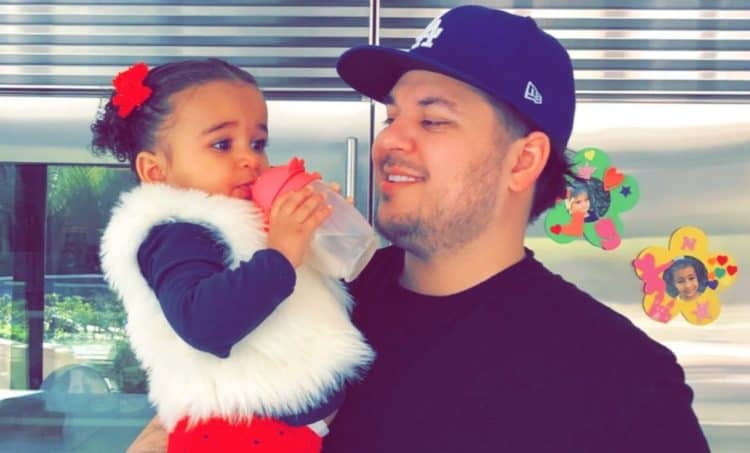 Rob Kardashian is a television personality and businessman who is best known for being a member of the Kardashian family. He was born in Los Angeles on March 17, 1987, and he began his career in entertainment in 2007. Most people know him from his appearances in the reality series 'Keeping Up with the Kardashians'. He also appeared on the ABC dancing competition television series 'Dancing with the Stars', in which he finished in second place. His turbulent love life has also attracted attention to this television personality, not least his relationship with Blac China, with whom he has a daughter called Dream Renee. Although most people know who Rob Kardashian is, he is often called the 'Forgotten Kardashian' because people know less about him than other members of his family. Therefore, there are plenty of things that people do not know. Here are 20 interesting facts about Rob Kardashian that you probably didn't know.
1. He Has Had a Few Health Scares
In their list of lesser-known facts about Rob Kardashian, The Talko says that the television personality has had several health scares in recent years. A recurring health concern for Rob Kardashian is mental health issues. In terms of his physical health, one of his worst scares was when he was admitted into a hospital in 2015 and diagnosed with diabetes. It is believed that he developed this condition due to eating and lifestyle choices. Just a year later, returned to the hospital for treatment for complications related to diabetes. Throughout his health problems, he has had the support of his family.
2. He Has a Luxury Sock Line
In 2012, Rob Kardashian launched a luxury sock line called Arthur George, says Heavy. A pair of socks from this luxury brand will set you back $50, and some of the designs available include Graffiti, Swirls, and Camo. Sales of the socks peaked over the first Christmas period after the launch, but then sales became stagnant. This led to Kardashian considering dropping the company in 2013. However, he still has the company and has said that he feels that nice socks make you feel properly dressed. He wears his own luxury brand of socks and has said that he sometimes wears his trouser legs up to show them off.
3. He Has Lots of Tattoos
Rob Kardashian has lots of tattoos, and he hasn't always made the best choices when it comes to what he should have inked on his body. On his right arm, he has the face of his mother and manager Kris Jenner, says Hayu.com. A portrait of his late father Rob Kardashian Sr. is his tattoo of choice for his left arm. On his neck, he has the name of his ex-girlfriend and mother of his child, Blac Chyna. Following in the trend of having a tattoo of his ex-girlfriends on his body, Rob had Adrienne Bailon's name tattooed on his ribs. When they split and he began dating Rita Ora, he covered Bailon's name with a drawing of Ora.
4. Kylie is His Favorite Sister
Rob is from a large family, but he has admitted that Kylie is his favorite sister, says Refinery 29. She is the sister he likes spending time with the most and the one with whom he is photographed most often. Rob has said that he brings out Kylie's silly side. The pair videoed themselves singing 'Titanium' and uploaded it onto YouTube.
5. He Sold Calabasas Home for $2.44 Million
According to Heavy Rob Kardashian sold his luxurious mansion in Calabasas for $2.44 million in June 2017, shortly after the birth of his daughter. Kardashian's mother, Kris Jenner, bought the home in 2016 for $2.285 million. The house had four bedrooms, five bathrooms, and a library. It was reported that Rob Kardashian made very little money on the sale of the house.
6. He Has a Business Degree
Many people think that Rob Kardashian has only had success as a businessman because he is from a famous family. However, he actually has a degree in this subject, says Hayu.com. He studied for a degree in business entrepreneurship at the University of Southern California. This gave him some knowledge and skills that he could use when he started his own business. His sister Kourtney also studied for a degree at this university, but the subject of her degree was theatre arts.
7. Blac Chyna Put a Restraining Order on Him
In July 2017, Blac Chyna took out a temporary restraining order on Rob Kardashian, reports The Huffington Post. This was put in place until the second hearing in their court case f=related to shared custody of their daughter, Dream. Chyna later dropped the case for the sake of their daughter and the former couple now has an amicable relationship and they co-parent their daughter.
8. Kardashian is Obsessed with Changing His Phone Number
In interviews, Rob Kardashian has admitted that he changes his phone number as many as ten times a year, says The Talko. When he changes his phone, he never saves any of the contacts. It is lucky that he changes his phone regularly because it made it less of a big deal when Blac Chyna created a situation that forced him to get a new number. Following many arguments between Chyna and Kardashian, his ex-girlfriend got her revenge by posting his number on social media, which led to Kardashian being inundated with texts and calls from fans.
9. Kardashian Also Used Social Media to Get Revenge on Blac Chyna
While Chyna posting Kardashian's phone number on social media was bad, his idea of revenge was even worse. According to Just Richest, he started by posting personal information about her on social media and calling her names. He then took things a step further by posting photos of her nude. This led to Chyna launching a lawsuit for damages to her brand, and she dragged the whole Kardashian family into the situation.
10. He Has a Huge Social Media Following
Rob Kardashian is a very active user of social media and regularly posts on both Instagram and Twitter. His Instagram account has 41.4 thousand followers, which is surprising as he closed his Instagram account down in 2018 and this is a new account he has started in 2019. This means he has attracted a huge following to his new account very quickly. He uses the account to post pictures of himself and his daughter and to promote his business ventures. His Twitter account has a whopping 7.4 million followers. He posts regularly on this account about his life and also promotes his sock business via Twitter.
11. He Has an Estimated Personal Net Worth of $10 Million
According to Cheatsheet, Rob Kardashian has an estimated personal net worth of $10 million. He has made this money through his television appearances, brand promotions, and his businesses. He is the least wealthy of all the Kardashians. The richest is Kim Kardashian who it is reported has a personal net worth of $300 million. Despite being the poorest of the Kardashians, he is far from living on the poverty line.
12. He Lied About His Plans for Further Education
Kardashian told his fans in 2012 that he was returning to the University of Southern California, from where he had already graduated, to study for a law degree, says Useless Daily. When asked about this, the University of Southern California's Gould School of Law denied any knowledge of this happening. In fact, they said that Kardashian had never even applied. It is not known why he told his fans that he was intending to pursue a law degree.
13. Kardashian Still Sleeps with His Baby Blanket
According to Thought Catalog, Rob Kardashian still sleeps with his baby blanket. Apparently, he revealed this information to US Magazine when he was revealing facts that people do not know about him. The blanket was his favorite when he was an infant, and he still finds it comforting in adulthood. His nana made him the blanket and he called it Kiki.
14. He Lived with His Dad Following His Parents' Divorce
Following the divorce of Kris Jenner and Rob Kardashian Senior, the family became very divided. While Kim and Khloe chose to live with their mom, Rob and his sister Kendall Chose to live with their father, says Thought Catalog.
15. Rob Kardashian was Once on a Dating Show
Although he seems to have no trouble attracting women, Rob Kardashian once appeared as a contestant on a dating show. According to Useless Daily, he appeared on a dating show called 'The Choice', which was broadcast by Fox in 2012. Since then, he has had several high-profile relationships with celebrities including Adrienne Bailon, Rita Ora, and Blac Chyna.
16. He Isn't Keen on the Limelight
Rob Kardashian is not very keen on his fame and tries to keep out of the limelight. Of all the Kardashians, he was the one who appeared on 'Keeping Up with the Kardashians' the least. IN several interviews, he has said that he is not keen on being famous and would rather just focus on his business ventures. Cheatsheet reported in early 2018, that he no longer had any interest in appearing on reality television shows.
17. He Danced on TV to Increase His Self-Confidence
Speaking of his appearance on reality television series 'Dancing with the Stars', Kardashian said that one of the reasons he did the show was that he believed it would give his self-confidence a boost, says IMDB. In his opinion, 80 percent of the population would not get up and dance in front of 40 million people. He felt that if he was brave enough to do this, it was a step towards his personal goals.
18. He Is Obsessed with Sneakers
One of Rob Kardashian's obsessions is sneakers. He is particularly obsessed with neon sneakers, and this is something that he collects. He has dozens of pairs and is constantly adding to his collection.
19. Rob Kardashian Has Battled with Weight Problems
Throughout adulthood, Rob Kardashian has battled with weight problems, says Capital FM. Depression stopped him from going out and he started overeating, which led to him suffering from diabetes. The more weight he gained, the less he wanted to be seen out in public. He credited ex-girlfriend Blac Chyna with helping him to lose between 30 and 50 pounds in weight. Since their split, he has continued to lose weight and improve his health. He is doing this through a combination of exercise and healthy eating.
20. He Makes Money Through Product Endorsements
Although Rob Kardashian has made money through his television appearances and his business, another source of income for this television personality is product endorsements. Just like his sisters, Rob endorses products using social media. Wikipedia claims that he earns between $75,000 and $300,000 per social media post that endorses a product. One of the products he endorses is Coca-Cola.