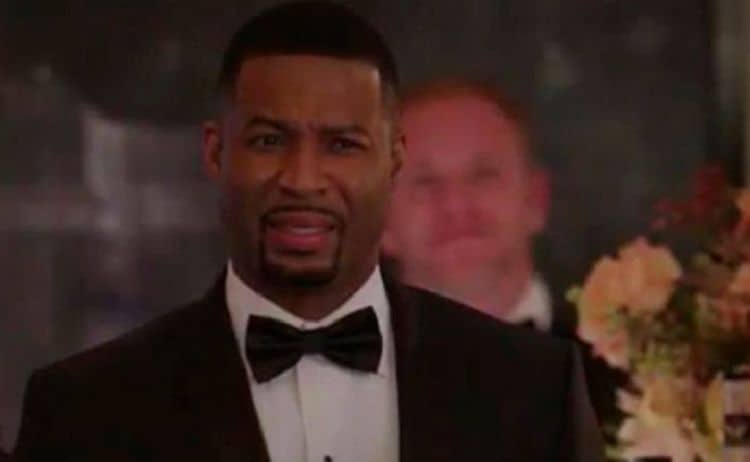 For a long time, Robert worked in the theater, which today remains one of his preferred places as opposed to television and film. He likes that he can be on stage and a few minutes later get immediate feedback about what his audience felt. However, despite having made his breakthrough in the theater, Robert Christopher Riley is known for shows like "Dynasty and "Hit The Floor," where his shirtless body always has the female viewers drooling. It is hard to believe that with his charm, he is still single, so let's share more about what we know about Richard.
1. A single mother raised him
There is no point in staying in an abusive relationship for the sake of children, as most marriage counselors will tell you. Therefore after having her son, Robert's mother endured the abuse from her husband until when Robert was around two years old. She left to become a single mother, and seeing his mother struggle to raise him on her own has made Robert have high standards in his relationships. It is, therefore, no wonder that even at the time, he did the interview with XO Necole in 2016 he was still single perhaps because he kept comparing all the women he dated to his mother.
2. His opinion on an ideal relationship
There is nothing like a perfect relationship since no one is born perfect, but then again, we can dream of ideal relationships. For Robert, getting a beautiful woman is the first step to establishing if she is his soulmate. He opines that men and women have different roles to play in a family; therefore, she has to be willing to be stern to the children when need be. Besides, even if she earns more money than him, she must give him the respect he deserves as the head of the family. He also uses a few questions to assess if a relationship will work out, depending on the answers given.
3. He was appointed to be Cole Skincare's brand ambassador
In 2017, Robert became Cole Skincare's brand ambassador with Cole Patterson, the founder of Cole Skincare for Men citing how Robert being a role model for the youth will help the brand to grow. His role, according to Patch, was to enhance brand name recognition and awareness through promotions, personal appearances, marketing, and special events. Robert was excited to be part of the team since he had the experience of using the products for over four years, and he could testify of how amazing they are.
4. He wanted to be an accountant
Growing up, Robert never dreamed of being an actor; instead, he wanted to be an accountant since math was his favorite subject. However, he still enjoyed playing football in the positions of wide receiver and safety; therefore, he joked that he would have been an accountant who played football.
5. How he made his start in acting
When Robert was in Lehigh, he joined an introduction to acting class. As luck would have it, the school was doing "A Raisin In The Sun" play, and they needed more black actors; hence Robert was asked to audition. He refused at first, but after reconsidering, he felt it was his obligation and ended up being cast in the lead role of Walter Lee.
6. Why he was chosen to be on "Hit The Floor."
Although Robert ended up on "Hit The Floor as Terrence he initially auditioned for Derek. He was filming "Single Ladies" in Atlanta when he taped the audition for Derek in his hotel room. It must have been impressive because he was called back to go and read for Terrence. However, it was an audition like no other because the scene was for Terrence and Jelena having sex and Terrence having an orgasm. He believes he got the part because he showed his commitment to the role, which only leaves a lot for the imagination.
7. He was a picky eater
Robert boasts of knowing his way around the kitchen all because, as a child, he was a picky eater; therefore, as soon as he could reach the stove, he started making whatever he wanted. He can make you a delicious meal of rice, peas, and curry chicken, but his best dish remains to be chicken Fettucine Alfredo. They say we have to eat breakfast like kings, and Robert tries to do so by having bacon, cheesy eggs, and a smoothie every day.
8. He is proud of his heritage
Robert is a first-generation American; his mother is from Trinidad while his father is from Barbados. He was born in Flatbush, New York, where he was also raised. The actor takes a lot of pride in being from the Caribbean and feels lucky that his mother and grandmother did not try to copy the American culture. After finding out that there are celebrities with Caribbean roots, Robert felt even more special for being from the Caribbean. So proud is he of his heritage that he tattooed his back with the national coat of arms of Trinidad and Tobago in commemoration of his grandmother's death.
9. His music career
Robert made his debut into Soca through a single titled "Prove It." He uses the music to take his Caribbean culture to other places, and he ensured he kept his fans looped in the recording process through Instagram's updates. As part of promoting his musical career, Robert also started a company called Peppa Sauce Entertainment, where his manager and friend are minority shareholders. Besides the debut single, Robert also was featured with Rikki Jai in a Chutney Soca song.
10. The ridiculous lie about him he has seen on social media
People will hide behind the keyboard and type anything, not caring, whether it hurts someone. Celebrities have been trolled and bullied, but one thing that Robert has so far found ridiculous is the lie about him being gay. He is not in any way homophobic, so he did not react in a way that makes it seem like it is wrong to be gay since he has lots of friends in the LGBTQ community. However, he clarified that he is straight.