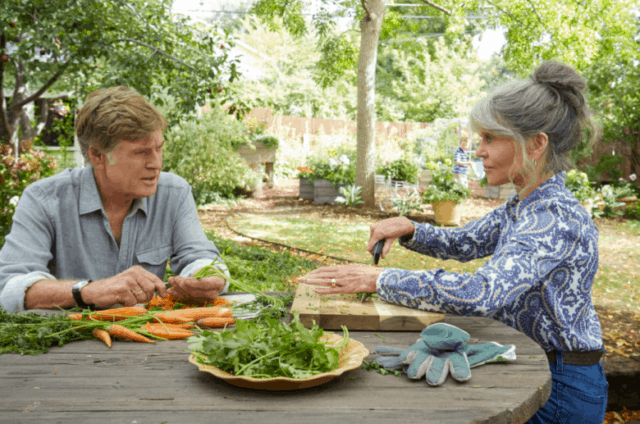 It's interesting what we as humans beings do and how we react when the twilight years of our lives start to dawn. That moment when you realize that you're in the final leg of your lifelong journey, no matter where it might have taken you, can only be met with something akin to a feeling of resolution yet to come, or a sense that your days are finally dwindling down and it's time to make the best of them. Â That seems to be the case in the Netflix film Our Souls at Night starring Robert Redford and Jane Fonda. For those that know, this is the first time in decades that these two have been in a production together, and the old spark that was felt back then is about to be rekindled as their on screen personas meet and eventually come to realize just how much they have in common.
So why will this be a good film to watch? Here's a couple of reasons.
It's Robert Redford and Jane Fonda.
These are two megastar caliber actors whose glory days are decidedly behind them but are not about to be counted out just yet. Despite their lack of youth this doesn't stop either of them from being an absolute joy to watch on screen. The last time you might remember Fonda being that great was back in This Is Where I Leave You. In that film her husband had died and her kids were back in the house for a period of seven days in which many shocking revelations spilled out and their family was eventually reunited in a way that had been sorely needed for quite some time. Her performance was amazing in that film, which means that age has not slowed her down a bit. Redford has been slowing down quite a bit in his career, but such appearances as The Last Castle have been solid performances that have reminded people just who he still is. Neither one of these actors is ready to be counted out just yet.
It provides an appropriate representation of getting older.
Very few people actually want to get old, but being human it does happen. That doesn't mean that once a person gets old that they have to stop living. The point of this film is the same point of life, you're only as old as you let yourself feel. Both characters in the film have lost a spouse, but eventually when they get together they realize that being close someone and experiencing life is far better than staying alone and waiting to die. Using the days you have left is far preferable to the alternative, which is rather bleak when you think about it. Â This film is all about aging gracefully and finding someone that you can experience life with in your autumn years. Because companionship is sometimes the only thing that stops you from truly feeling the years as they pass by.
This movie seems like it will be both touching and well received both for its cast and for the message it sends.
Save