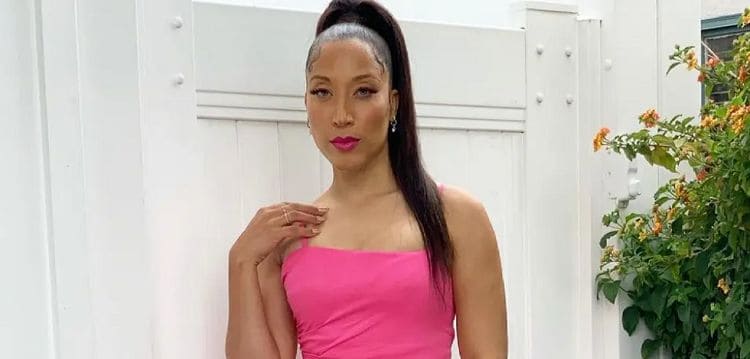 Robin Thede has always loved making people laugh, and that love has brought her all the way to Hollywood. She began her career in comedy in the mid-2000s and became well-known in the sketch comedy scene. Over the years, she has continued to move through the ranks to earn the respect of people all over the industry. These days, she is most well-known as the creator of A Black Lady Sketch Show which features some of the most talented Black women in comedy. Robin's creativity and work ethic have allowed her to carve out a solid place for herself, and she's nowhere near finished yet. Keep reading for 10 things you didn't know about Robin Thede.
1. She's An Iowa Native
Iowa is one of those states that can be easy to forget about if you're not from there, but for Robin Thede, it's home. She was born and raised in Iowa to a Black mother and a white father. Robin's mother, Phyllis Thede, has been in politics for years and is a member of the Iowa House of Representatives.
2. She's Written For The White House Correspondents Dinner
The fact that Robin's talents have taken her to Hollywood is very impressive, but what's even fooler is the fact that they've also brought her to the White House. In 2016, Robin was the head writer for the White House Correspondents Dinner. This accomplishment made her the first Black woman to have that role.
3. She Studied Journalism
Despite the fact that Robin has always loved comedy, there was a point in her life where she was on a different path. Robin has a bachelor's degree in broadcast journalism and African American studies from Northwestern University. She then went on to study theater at The Second City in Chicago.
4. She Was Nominated For An Emmy
For people in the entertainment industry, the success of their careers is often measured by the number of awards they've won. Although Robin hasn't won any major awards just yet, her time is coming. In 2020, she received her first Primetime Emmy nomination for Outstanding Variety Sketch Series for A Black Lady Sketch Show.
5. She Loves To Travel
Robin doesn't just work hard, she knows how to play hard, too. Traveling is one of her favorite things to do and she enjoys the experience of learning about new places and cultures. She has been fortunate to visit lots of places in and outside of the United States including England and France.
6. She Laughs Easier Than You'd Expect
As someone who has made their living making people laugh, most people would probably assume that Robin has a very sophisticated sense of humor that can be hard to crack. In reality, however, it's just the opposite. During an interview with Shondaland, she said, "I love well-crafted jokes. I love long cons in comedy, where you have to invest in a story in order to get the comedic payoff. And, honestly, I also just love someone fake tripping down stairs or playing an over-the-top, broad character. To be honest, I laugh at most anything."
7. She Loves Fashion
Most of what Robin does is all about telling jokes, but if there's one thing she's serious about, it's fashion. Not only is she going to show up to the function, but she's going to shut it down in the process. No matter what the occasion is, Robin knows exactly how to serve a look.
8. She Made Sure To Pick A Diverse Group For A Black Lady Sketch Show
One of the things that have made A Black Lady Sketch Show so successful is the fact that it has so many different types of comedians. This is something Robin was very intentional about when casting. She told Shondaland, "We were intentional about different types, and it was important for me that we had a plus-size woman on the show. It was important to me that we had different skin tones on the show. It was important to me that in our guest stars we had different age ranges…We wanted to really show the variety amongst black women, so that a show that seems very singular and is specifically cast can be universally funny and universally appreciated."
9. She Enjoys Interacting With Fans
Fans are an essential part of every entertainer's success, and this is something Robin completely understands. Robin is thankful to the countless people who have supported her journey throughout the years. She loves getting the chance to connect with them using social media.
10. She Likes Her Privacy
There are lots of people in the entertainment industry who are cool with putting all of their personal business in the street, but Robin isn't one of them. Robin has always been pretty low-key when it comes to her personal life. Instead, she's rather people focus on her work.