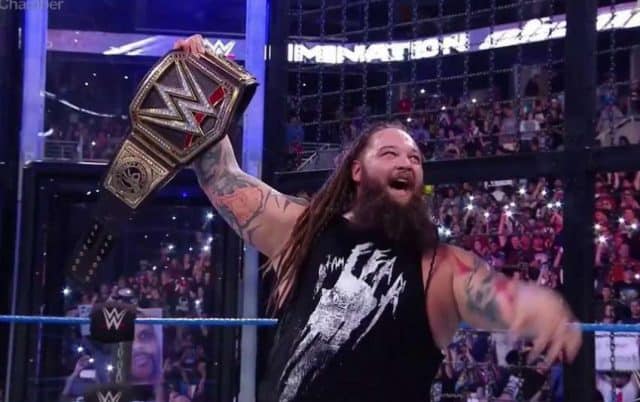 Other than the Grammy Awards and Saturday Night Live, one of the biggest stories over the weekend was Bray Wyatt's victory securing him the World Championship belt in the WWE. While I think the collective public and even WWE fans around the country know that wrestling is fake, it was still be "news" that Wyatt won. Even though the victory was predetermined and 99% of the match choreographed, it was big news. That's like literally congratulating Sylvester Stallone for beating Ivan Drago in Rocky IV.
Still though, fans were loving the fact that Wyatt won.  Even Dwayne "The Rock" Johnson got in on the congratulations.   Johnson tweeted "Hell yes. Big fan of his talent and couldn't happen to a better dude. Welcome to the club, enjoy the ride and have fun! Congrats brother."
Bray Wyatt will now move on to Wrestlemania to defend his WWE Championship against Randy Orton in the Smackdown main event. The praise from The Rock is especially significant considering many people believed Rock buried the Wyatts last Wrestlemania when he defeated Erick Rowan in the quickest match in Mania history
And P.S. I'm joking about wrestling being fake.  While this stuff is choreographed and acted out, the athletes in the WWE are 100% real and the stuff they do is extremely dangerous.  Wrestling's actually more real than most sports when you think about it.
Here's the Rock's Tweet.
Hell yes. Big fan of his talent and couldn't happen to a better dude. Welcome to the club, enjoy the ride and have fun! Congrats brother. https://t.co/fdtl1CwKQq

– Dwayne Johnson (@TheRock) February 13, 2017