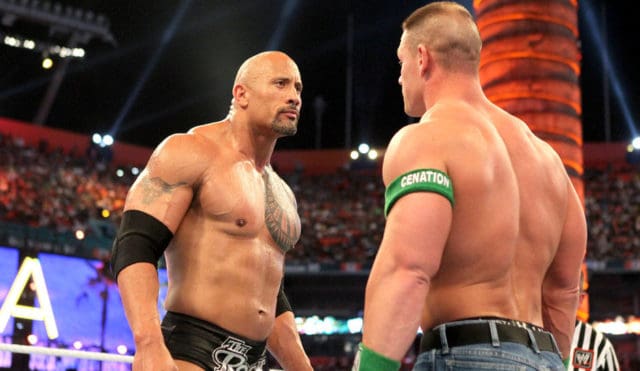 The Rock or as he's now called "Dwayne Johnson" squared off against John Cena in Wrestlemania XVIII in what was dubbed as the "Once in a Lifetime Match."   The battle lasted over 30 minutes. Cena and Rock viciously went back-and-forth with each other throughout the match. The Rock kicked out of two Attitude Adjustments, Cena out of a Rock Bottom and People's Elbow. When Cena attempted a People's Elbow on the Rock, he ran into another Rock Bottom, which allowed the Rock to pick up the win.
However, to pick up the win it looks like The Rock drew inspiration from Hollywood.  Many people have written off the movie Nacho Libre as one of Jack Black's dumber films.   Sure, it was dumb, but it was also funny.  In addition to the humor, it very well may have been the inspiration for the move that defeated Cena 6 years later at Wrestlemania.  As you'll see from the GIF below, this cannot be a coincidence.   This is the EXACT same move.
Can you imaging if this clip played on the Jumbotron at the arena right after the match ended?  Man, I really wish I could go back in time and do that.   This is pretty funny.