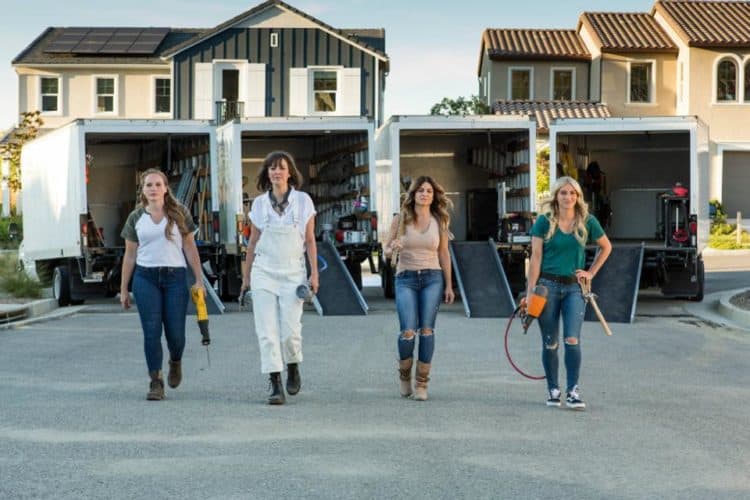 If you missed the premiere, but you love a good renovation show, don't worry, there's plenty more Rock The Block coming your way soon. For those of us who enjoy watching houses get partially demolished and built back up in epic style, this is one show that's not to be missed. Whatever your design style, you'll find something to love. When you need a little inspiration for your own restyling, HGTV always brings the best ideas to the screen, and so do the ladies of Rock The Block. Whether you're tuning in again or just catching on, here are ten things you didn't know about HGTV's Rock the Block.
1. Empowered Women
Modern women are all about empowerment. From fighting for equal wages (still) to taking on jobs that the guys used to say weren't suited to a lady, the world is getting more balanced. Still, there are lots of industries that are male-dominated, and home renovation is definitely one of those. HGTV is jumping on the women's' equality movement with this show that features four female leads bringing their A-game and their sledgehammers to work every day.
2. All-Star Lineup
Four women tackling four identical homes make for one fantastic action-packed show. You'll find more than a few surprises in store, but one thing that won't be a shocker is the cast. HGTV took four dynamic ladies who already starred in home improvement shows and brought them all together to make their own spectacular program. You'll see Alison Victoria from Windy City Rehab, Leanne Ford of Restored by the Fords, Hidden Potential's Jasmine Roth, and Good Bones' Mina Starsiak Hawk compete to make every house their personal best.
3. But Wait… There's More
One of the worst things about any fabulous show is the part at the end when there's nothing left but the credits. Fortunately, the creators of RtB thought of that, and they decided there was more they could offer fans of the new show. Rock the Roundtable is an exclusive digital companion series for Rock the Block. When you finish watching the ladies make dream homes come true, you can catch a few minutes of this extra show online.
4. Passing Judgement
As though seeing four top of the line renovators come together to compete for four weeks wasn't enough, other famous faces are dropping in. There are going to be appearances from Rehab Addict's Nicole Curtis and HGTV Smart Home 2019's Tiffany Brooks. Plus, every week will feature a guest host from another HGTV show. They'll help judge the challenges. The master suites will be judged by Tarek El Moussa from Flip or Flop. The kitchens will be subject to scrutiny from Holmes & Holmes' own Mike Holmes. Finally, the family rooms and outdoor spaces will have to pass muster under the watchful eyes of Brian and Mika Kleinschmidt of 100 Day Dream Home.
5. Big Budget
We love shows like Design on a Dime, but that's probably because we can't afford a Hollywood mansion (yet). However, this is not one of those shows where they have to scrimp and save pennies. The goal is to give each house a facelift that will leave the homeowners with more property value than they had before, and the most significant increase wins. The budget for each home is $175,000. That's a substantial sum, but keep in mind, they aren't redecorating a single room here. In fact, the requirements for the show are pretty strict.
6. Must Haves
Renovation can be a ton of fun or a massive headache. Working with clients to help make their homes into their private sanctuaries has undoubtedly resulted in some interesting demands. For this show, the network had some very specific requirements for the women who are working on the houses. Every finished home has to have a renovated outdoor space, kitchen, family room, and a fully renovated master suite. They'll have four weeks and four challenges centered around these areas.
7. Street Names
There have been a lot of shows that were competitive over the years. Those shows have featured cash prizes and all kinds of cool swag like dream vacations and cars. Rock the Block had something a little different in mind for the weekly winners. Sure, they get epic bragging rights and the satisfaction of a job well done, adoring fans and a lot of nice perks, but they also get one thing we've never seen before. The winner also gets a street named in her honor.
8. Bonus Prize
Each episode has a weekly winner who gets a showcase episode after the show airs. Winners' Show is an hour featuring the designer who truly rocked that week's renovation project. You'll get to see some of their other work from the shows they've already 'rocked.'
9. Pop Quiz
We adore all the clever online quizzes. Learning which Disney princess would make the best BFF is hilarious. However, for a much more forward-thinking and adult version, you can take a quiz to see which RtB lady you are most like. Answer a few simple questions about what sorts of things interest you, and you'll get matched up with your spirit-renovator. No cheating, or you'll never know who to hire when you make your millions and need an update on your own fantastic house.
10. Gotta See It to Believe It
If you're as excited as we are to watch the episodes or you wanted to re-watch the first episode again, then we have great news. You can stream episodes on HGTV.com. After all, there's nothing worse than missing an outstanding show because you're busy on the night it airs. Luckily, the creators of this show thought of everything.
Final Thoughts
We can't wait to see these amazing, creative women get to work again. No spoilers here, you'll have to watch the first episode, which aired on October 21st, for yourself. All we can tell you is that these ten facts weren't the only surprise. Do you have a favorite female HGTV star who you think they should have included on RtB? Let us know who and why in the comments section.