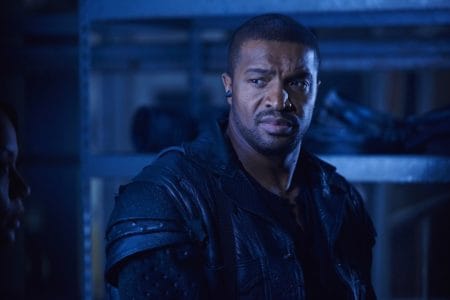 A lot has changed in the 30 years since Roger Cross made his on screen debut in an episode of 21 Jump Street. However, one thing that hasn't changed is Cross' work ethic. He approaches every opportunity with excitement and professionalism. As a result, he has earned 150 acting credits over the course of his career. Cross has appeared in several popular TV shows such as The X Files, Arrow, and The L Word. His ability to play a wide range of characters has made him a great fit for all sorts of roles. The reality is that Cross has probably been in at least one TV show that you like.  Keep reading for 10 things you didn't know about Roger Cross.
1. He Was Born In Jamaica
Roger spent most of his life living in Canada, but he was actually born in Jamaica and lived there for the first 11 years of his life before relocating to Vancouver. Even though moving to a new country can be challenging, Roger was lucky enough to have his family with him for the experience. He currently lives in Los Angeles with his family. Roger still has a close connection to his home country of Jamaica.
2. He's A Father
Roger has had a very successful career that has required a lot of his time and attention, but he's still managed to find time for his personal life. He is a proud family man who has two sons: Gabriel and Kaniel. Although it's unclear whether or not Roger is married, he is in a relationship with a yoga instructor named Josephine Jacob.
3. He Practices Yoga
Apparently, living with a yoga instructor definitely comes in handy. Roger regularly practices yoga and appears to be pretty skilled at holding some difficult poses. While yoga is known to have some great physical benefits, it's also a great way to keep the mind in good shape.
4. He's A Private Person
Most people who have been in the industry as long as Roger have become open books. After all, it is tough to keep your personal life out of the spotlight when you've made a career out of being on camera. However, Roger has managed to do it. He doesn't share much information about his private life and he doesn't have a large following on social media.
5. He Loves Filming In Vancouver
Vancouver has been Roger's home for much of his life and it's also one of his favorite places to film. He told TV-Eh, " I do have a special place for Vancouver because where else do you get this view? You have the water, the lush greenery, the mountains, the fresh air…"
6. He's A Sports Fan
Roger loves his job, but he also likes to relax and unwind just as much as anyone else. He's a big sports fan and one of his favorite ways to unwind is to watch live sports. Despite living in Los Angeles, Roger appears to be a fan of the Seattle Seahawks. Unfortunately for Roger and the rest of the sports fans, it'll be a while before anyone can go watch any games in person.
7. He Has A Degree In Aviation
Roger isn't the type of actor has always planned on having a career in acting. Instead, he had dreams of working in aviation. He earned a degree in aviation from Trinity Western University and has a brief flying career before he decided to take up acting.  Roger still flies on occasion, but not as often as he'd like.
8. He Started His Career As A Stunt Man
No matter what line of work you're in, you have to start somewhere. For Roger Cross, that somewhere was working as a stunt double. After he got a taste of the industry while performing stunts, he knew that acting was what he wanted to do. He eventually enrolled at Breck Academy where he studied acting. When he first got started, he had no idea that his career would take off the way it did.
9. He's Filmed In Several Countries
Some actors never get the opportunity to film outside of their home country, but Roger has been fortunate enough to get opportunities outside of Canada. Roger has filmed in several other countries including the United States, China, Burma, and Vietnam.
10. He Loves Comedy
Roger doesn't just like to entertain people, he likes to make them laugh as well. He might not be a  professional stand-up comedian, but he does have some experience. During an interview, he said, " I did a little stand-up with Mary Lynn [Rajskub] at the Comedy Store."