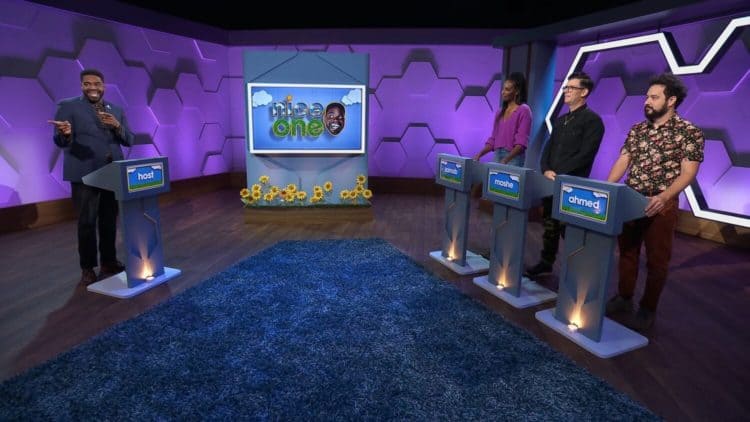 Funny man, Ron Funches, has been keeping audiences LOLing for more than a decade. Between stand-up comedy and acting, Ron has shown that he has the ability to make people laugh in multiple settings. Now he's getting ready to put his talents to the test as a game show host. Ron is the host of a new show on Quibi called Nice One! You know the phrase "if you don't have anything nice to say, don't say anything at all"? That's essentially how the game works. The contestants are made up of comedians who are presented with a bad situation and are competing to see who can say the most nice things about it. Even though Ron isn't competing, his humor continues to shine though. Keep reading for 10 things you didn't know about Ron Funches.
1. He's A Gamer
Comedy may be Ron's career, but it isn't his only passion. He is an avid gamer who has been playing video games for much of his life. Sometimes, Ron even plays video games during interviews. At one point, his lifestyle was so sedentary that he weighed nearly 400 pounds.
2. Lucille Ball Inspired Him
Lucille Ball is one of the most iconic comedians in recent history, and she's also one of Ron Funches' biggest influences. He told Straight.com, "I feel like comedy is comedy. I Love Lucy was kind of my introduction to the world of comedy in general. And when you look at the history of Lucille Ball, and the work that she did for women in Hollywood, having her own production company, and also showing an interracial marriage on TV in the '50s, to me, she's just one of my biggest influences overall as a human being. '
3. He Likes To Keep His Comedy Positive
Stand-up comedy isn't typically the most family friendly things in the world. Lots of comedians have a reputation for performing jokes that are crude and inappropriate. However, Ron has worked hard to position himself with a different brand of comedy. He likes to keep his routines positive and he tries to consider how people will feel when they hear his jokes.
4. He's A Wrestling Fan
On top of being a gamer, Ron is also a big pro wrestling fan. He grew up enjoying the sport and continues to attend wrestling events today. He even got to experience a wrestling fan's dream come true when Ron and wrestling legend, Ric Flair, worked together on one of Ron's comedy specials.
5. He's Had A Lot Of Odd Jobs
Almost everyone has had an odd job or two, but Ron Funches has had a handful. He told Nuvo, "I worked a bunch of jobs. I worked at a bank call center. I worked as a grocery store clerk and a Liberty Tax sign dancer, just helping people decide where they were going to get their taxes done by dancing in the street with a dress." Even though none of those jobs were glamorous, they were an important part of the path that ultimately led him to comedy.
6. He Hosts A Podcast
Ron loves creating content and one of his favorite ways to do that is by podcasting. He  hosts his own podcast called Gettin' Better. The podcast is all about spreading positivity and staying motivated. Ron releases new episodes every Monday and addition to being on major streaming platforms, the podcast is also available on YouTube.
7. His Son Has Autism
Ron is a very proud father to a little boy named Malcolm. He has been open about the fact that his son has autism and has incorporated it into some of his comedy routines. However, Ron realizes that his son's condition isn't actually a joke and he is very serious about autism awareness.
8. He's Always Wanted To Be A Stand-Up Comedian
Being a comedian isn't something that lots of kids grow up wanting to be, but Ron Funches wasn't lots of kids. By the time he was 5, he knew he wanted to become a stand-up comedian some day. He officially started making steps towards his dream when he was 23.
9. He Has His Own Merch Line
If you're a proud Ron Funches fan, you can now put your love for the comedian on display by wearing some of his branded merch. Although he doesn't advertise the merch in any of his social media bios, he does have an eCommerce store where he sells t-shirts with his face and/or phrases on them.
10. He Grew Up In The Midwest
Ron was born in Los Angeles, but spent the first several years of his life living with his mother in Illinois. When he was 13, he moved to Oregon to live with his father. He began his career in Oregon but ultimately decided that moving to Los Angeles would be the best option for him.