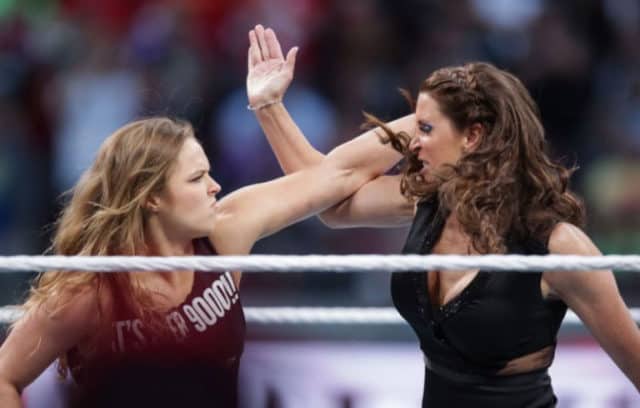 You don't go from movie star to the WWE, it's just that simple.  But you also don't really go from MMA straight to movie stardom either.  Just ask Gina Carano.   She's an actress now but it's not like she's some big star.  When you see people make the transition from one medium to the next, it's evident the best examples are those that went from the WWE to the movies.  Look at John Cena.  Look at Dwayne "The Rock" Johnson.   If Ronda Rousey wants to make it in Hollywood she should be learning the ropes at the WWE.  After all, we've never had a female wrestler from the WWE transition into film successfully and Rousey might as well be the poster child for this potential transition.
I bring all of this up because in recent news we've gotten the biggest hint that Rousey's ready to join the WWE yet.   Granted Rousey's in full acting mode and we're all but positive she won't be returning the MMA ring anytime soon, the WWE would be a logical stop, and so too thinks Paul Heyman and Jim Ross:
If Rousey were to opt to retire as an MMA fighter, would she still be a viable athlete in the WWE given the crushing defeats she suffered in the UFC? As far as Ross, a popular long-time wrestling broadcaster and former WWE executive vice president of talent relations, is concerned, Rousey would thrive in pro wrestling.
"None whatsoever," Ross said regarding the impact of Rousey's losses on her popularity in wrestling. "Ronda is a star of a major magnitude with immediate name identity. Her image, her marketing image, that has been perpetuated with a lot of wins, obviously, is a global recognition.
"Their network, it's all about getting people to sample the WWE Network. Ronda Rousey, in a provocative, nicely arced story, can still do that."
A WWE career makes all the sense in the world for Rousey right now.  She'd make tons of money and would be free to hone in on her acting skills.  Take the Cena and Johnson route Ronda, it makes the most sense.