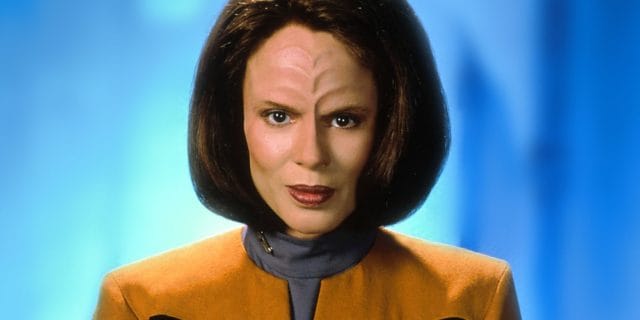 Some people seem like they can do it all when it comes to their profession, and Roxann Dawson is one of those folks that makes you wonder just how she finds the time to accomplish so much and still have a life on top of it. So far in her life she's worn several different hats, not the least of which is being a mother and a wife, and she's made her career something that anyone would probably be proud of through a lot of grit and personal determination. Now if you're not a Trekkie you might still recognize her, but the chances are slim since during her run on the show she wore a lot of makeup, just like a lot of individuals that played aliens did at times. As a Klingon she had to look almost unrecognizable so it's easy to see how some folks might not think that this is the same person. But be assured that Roxann did play an important part in her day. The prostheses and heavy makeup that had to be used for her role took a while to get on and gave her a very different look than she has when just acting as herself, but the talent it took to accept and mold herself to the role was what really made it all come together. Even when things have started to get a little overwhelming in her career she's managed to push through and create something out of raw talent and the materials needed.
Roxann is definitely one of those strong-willed individuals that doesn't lie down for anything if she doesn't feel the need.
10. She's played Lt. Torres in two different shows.
The first is obviously Star Trek Voyager as this was her home for a number of years as she took on the role of B'Elenna Torres. The other was the TV movie N.Y.P.D Mounted. Obviously they were two very different characters but sharing the same last name was kind of an odd design, or a coincidence.
9. Roxann actually cried when she first saw herself in Klingon makeup.
The first time she saw herself in the full Klingon makeup she broke down crying as she was trying to find herself in the mirror. Once she made peace with it then everything was okay, but she was pretty shaken up to begin with.
8. She's good friends with the daughter of William Shatner.
It almost seems destined that she would have starred in Star Trek at some point as being around Shatner might have been the kind of gravitational pull she would need to find herself on the show at one point.
7. Her first major role was on Broadway.
She starred in the play A Chorus Line. Her stage career went on throughout the 80's and 90's even as she went on to star in films and TV shows. She eventually gave up the stage however in order to further her career in other directions.
6. She's written her own plays.
This woman has a great deal of skill if she can come from in front of the camera to the shadows behind it to start writing out her own scripts as well. At this point it doesn't sound like there's a lot that she can't do unless she knows how to act like part of the crew as well. That might be a stretch though.
5. She's also a director.
Roxann started sitting behind the camera at one point and it seems as though she likes it since at this point she's been directing for many years and doesn't seem inclined to stop. She's definitely the take-charge type that likes things to go the way they should, but she'll also work with her people when needed to make the production pop the way it needs to.
4. Her TV credits are far more numerous than her movies.
She's definitely taken to TV more than she ever did to film but there's at least a handful of movie credits to her name. At this point though directing seems to be where it's at for her and she definitely has taken it up as calling since she's amassed a very impressive resume as a TV director.
3. Her career has been built on more than just acting and directing.
As it was already mentioned she's been a writer too for a while, and she's also been a producer. It's easy to get the idea that Roxann doesn't want to hang out in just one spot and had a desire to experience as much of the film industry as she can.
2. She got her start back in 1985.
At this point she's been around for a few decades and obviously knows what she's doing and what she wants.
1. She's directed more than a few Star Trek episodes.
It's kind of nice, even poetic in a way, that she would take the reins and start directing the show that helped to gain her such a big fan base.
You've got to wonder if she knows as much about it as the fans do though.