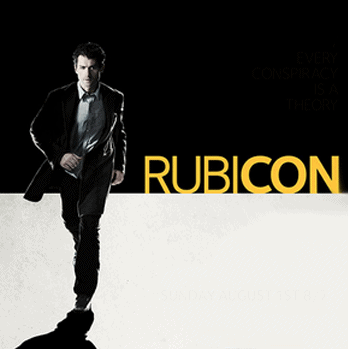 You may have already seen the first episode of Rubicon, but that doesn't mean you don't need to tune into AMC tonight. Sure, the premiere, "Gone in the Teeth," already aired back in June, but you might need a refresher course when it's re-aired at 8/7c.
What's that? You don't need a refresher course? Well, that's okay. You wouldn't want to miss the entree, would you? Episode 1.02 will be airing at 9/8c, right after "Gone in the Teeth." The episode, titled "The First Day of School," will of course be a new one, and will possibly clear up some of the mysteries that "Gone in the Teeth" left in our heads for two long months.
If you're unfamiliar with the premise of Rubicon, it's certainly easy to get caught up. An analyst (James Badge Dale) working at a national think tank (conspiracy theory center) finds a conspiracy theory of his own that leads him to search for the hidden truth — a truth which is being hidden by the very people he works for. If it sounds cat-and-mouse intense, that's because it looks like it will be. The first episode serves as mainly exposition, and will undoubtedly work in tandem with episode 1.02 to form a pretty engrossing premiere. Maybe we'll also see more of Miranda Richardson, who was relegated to the opening scene of the premiere, in the second hour.
Both episodes will air before the second episode of Mad Men's fourth season, "Christmas Comes But Once a Year." With AMC's track record of glorious accomplishments, you can't afford to miss the beginning of what will soon become appointment television.
You can check out my review of "Gone in the Teeth" here. You can expect a review of the second hour tonight.
Rubicon premieres tonight at 8/7c and runs through 10/9c.