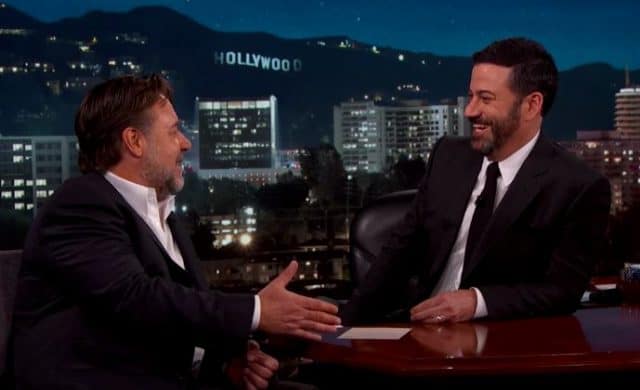 The upcoming Shane Black-directed film The Nice Guys, which stars Russell Crowe and Ryan Gosling and hits theaters next Friday, May 20, looks like it could be the sleeper hit of the summer, and the major reason for that is the chemistry between Crowe and Gosling, which is on full display in every trailer for The Nice Guys so far. So how was it really working with Ryan Gosling? Last night on Jimmy Kimmel Live, Russell Crowe talked about their working relationship and how their senses of humor and commitment to preparation allowed them to create the best movie possible.
During his interview with Crowe, Kimmel asked him if he was surprised at all with how well he and Gosling meshed together in The Nice Guys. Crowe explained that while he knew that they both enjoyed similar types of comedy and could laugh at themselves from the conversations they had with each other on the phone, he wasn't really sure that their partnership would work until he got on set and saw Gosling in action.
"The thing about Ryan, man, is that he's a cineast," Crowe told Kimmel. "He really does have a knowledge of the history of cinema, you know?"
While Crowe stressed how impressed he was with how "seriously" and "deeply" Gosling took the role in The Nice Guys, he also didn't hold back from joking about his co-star's lack of interest in sports. In fact, Crowe even revealed that Gosling doesn't have any interest in hockey, and he told Kimmel that there's a particular word that Canadians have for the people in their country that don't follow their nation's favorite sport.
To find out what that word is and to seee Russell Crowe talk more about his and Ryan Gosling's working relationship, check out the video below:
[Photo via YouTube]