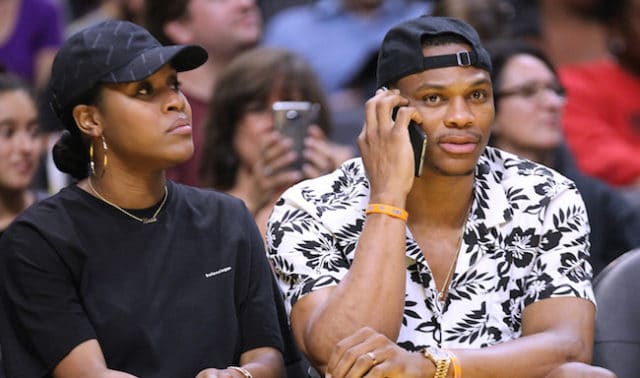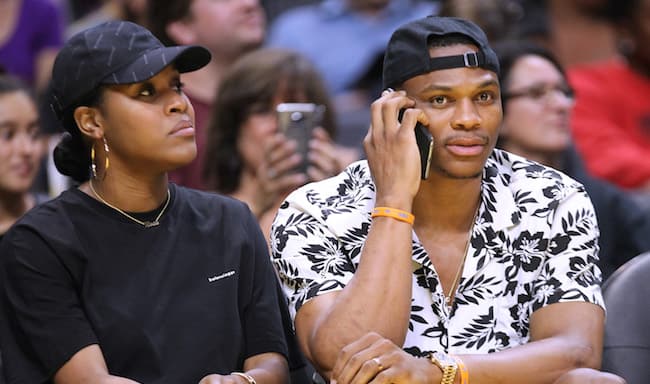 This Halloween it seems like there are a lot of favorite outfits and then there are those that are bound to offend people on one level or another. Here's one that shouldn't offend anyone except maybe those that didn't enjoy White Men Can't Jump. Is there anybody out there that didn't like this movie that much? Hopefully not because Russel Westbrook and Nick Collison's outfits are already picked out and they're close enough to be considered as good enough to depict the iconic pair of Sidney and Billy.
In fact, the fantasy matchup between these guys might be interesting if it was ever possible. But honestly there's no telling if Wesley Snipes and Woody Harrelson are even that good at basketball. Plus they're both getting up there in years so let's just say that on a hypothetical the characters of Sidney and Billy would have given Westbrook and Collison a good run.
Honestly the only things that are off are the printed shirt and possibly the shoes, but that has a lot more to do with the times and not so much the accuracy. I'm betting that the printed shirts that Billy wore in the movie are either out of style or out of date, or both. The availability for the exact matching clothes would be hard to imagine since the film was released back in 1992, when a lot of us were still growing up or weren't even born yet. Getting everything right from back then would probably mean rooting through a bin of old shirts and shoes that hadn't seen the light of day in years, if they hadn't already been recycled for fabric and materials.
Plus the Sidney hat, while accurate in form, is a different brand and Carla was definitely wearing a little more bling. But stuff like that doesn't matter since the look is so awesome that it instantly brings back memories of seeing this film in the theater and falling instantly in love with just because it was that awesome. The characters weren't all as well-developed as might have been nice, but the dynamic between them was so great that at one point you almost started to feel sorry for the guys since the women were strong, opinionated, and very independent up until the moment when they lost everything.
The guys for the most part were hustlers that did what it took to make a living and survive. They were, more or less, hucksters that knew the right people and knew how to get around with their wits and a serious amount of game that allowed them to move around people as though they were standing still.
I would sincerely hope that the almanac is a prop for the costume and not something that she's genuinely into since the character of Carla in the movie was ruled by that book. Poor Billy had to listen to her ramblings day and night and likely didn't understand a third of what she was saying.
The costumes though are easy to understand and are very well done.
Save